This lentil tabbouleh with grilled chicken is my favorite tabbouleh recipe. Super delicious, very easy, and a quick meal that makes a perfect fitness dinner.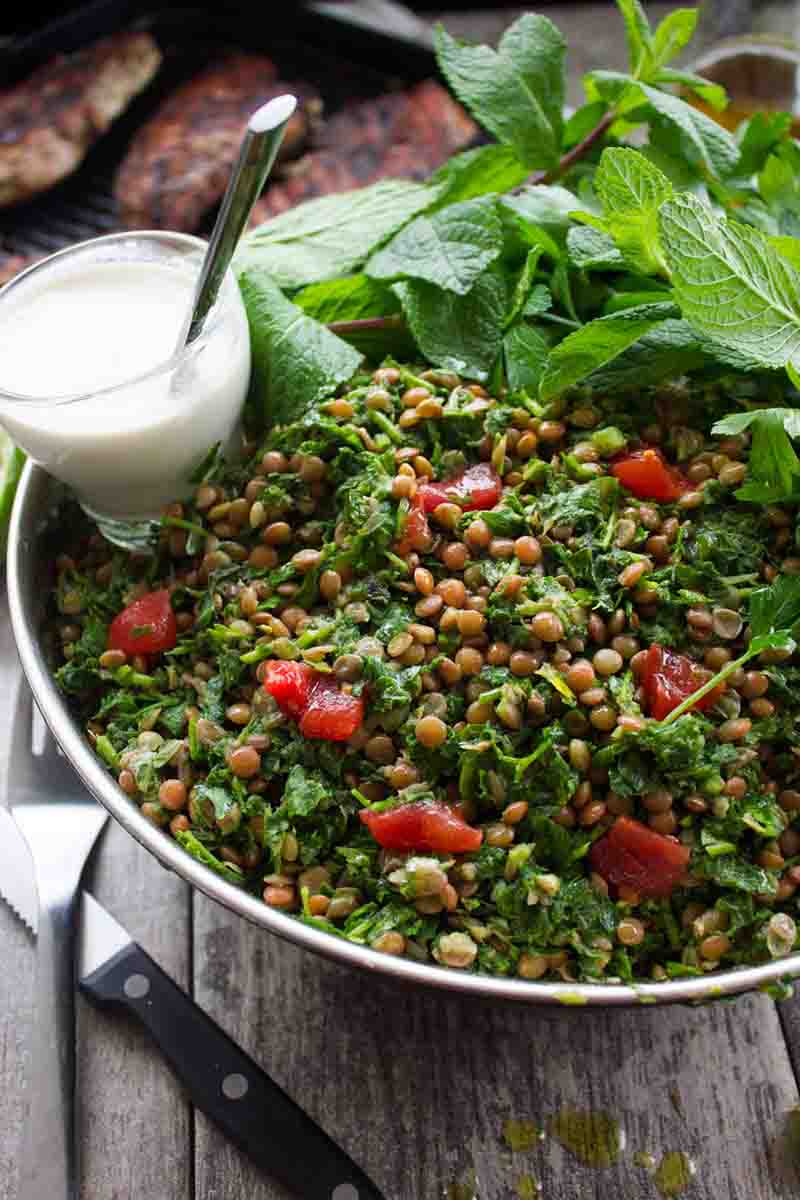 It gets its amazing flavors from an abundance of parsley, mint, and lime, the scallions, and olive oil, tossed with perfectly cooked creamy lentils and finished off with a luscious yet healthy tahini sauce! Then put grilled chicken on top for a serious protein boost!
I only came across tabbouleh recently, but I fell in love with it right away, and I've made it in countless ways since. Today it is lentils day. Lentils are not only tasty; they also provide the body with an incredible amount of protein, amino acids, and vitamins. Best of all, they are ABSOLUTELY delicious, creamy, hearty and very comforting.
How to make Lentil Tabbouleh without chopping
So are you still one of those who hesitate to make tabbouleh because you don't want to spend all day chopping the parsley so very finely? Well, guess what, after a little trial and error, I can finally say that YES you can indeed make a tabbouleh using your food processor! It will actually only take you five minutes with a few simple tips.
I begin by pulsing the scallions in the food processor until they're finely minced. Then I add in the mint and pulse (NEVER process, always pulse). I place this mixture in a large bowl. Now I put in a quarter of the parsley at a time, pulsing each portion until it's finely chopped but not mushed.
This is really the secret to perfect homemade tabbouleh without the hassle of chopping. Now all you need is to toss it with the lentils and season it

Lovely lentils for our Lentil Tabbouleh
I seriously love lentils! They're meaty, creamy, super filling and fueling. I'm using brown lentils for this lentil tabbouleh but you can absolutely use green ones if you prefer.
Before cooking your lentils, rinse them thoroughly in cold water. Always cook the lentils on low heat to avoid them becoming mushy and NEVER salt the lentils before they are fully cooked.
Now if you're going to be cooking up lentils, you'd rather be cooking LARGE batches and storing them in the fridge and freezer for busy days. Toss them with soups or salads and make your dinners in a flash.
Spicing up the Lentil Tabbouleh
To dress up this delicious lentil tabbouleh salad, I toss the scallion, parsley, mint, and lentils with salt, lime juice, and olive oil. Then I top it off with the yummiest tahini sauce ever! Creamy tahini sauce that's boosted with lime and cumin. Simple, easy, and ultra flavorful.
The simplest things like this sauce make a world of difference to a meal. The tahini sauce is perfect with fish, chicken, veggies, falafel, everything!

Adding protein to the Lentil Tabbouleh
You can eat this lentil tabbouleh as a light vegan dinner on its own but if you're looking for a boost of protein and a full meal, I love pairing it with grilled chicken breasts. No time to marinate here, so to compensate for that, we need to boost up the spice!
I slice each chicken breast in half and I season them with salt, pepper, fresh garlic, cinnamon, allspice, nutmeg, oregano, cayenne (optional) and lime juice. This spice combination is outstanding. It adds a nice depth of flavor and feels like it's been marinating for hours! Then I grill the chicken breasts (indoor or outdoor) for about 5-7 mins per side.
Of course, if you are feeling really fancy (or have guests you want to impress), you can make our amazing Stuffed Chicken Breast with the tabbouleh on the side. That's a sure crowd pleaser!
This for me is the perfect weekday meal. I know the list of ingredients and instructions looks a mile long, but it's really a very easy and quick meal to make so give it a try!
For more healthy recipes, check out this list of my favorite healthy low-carb chicken recipes.
Recipe Card
Lentil Tabbouleh with Grilled Chicken
Lentil tabbouleh with grilled chicken is my favorite tabbouleh recipe. Super delicious, very easy, and a quick meal that makes a perfect healthy dinner.
Ingredients
Lentil Tabbouleh
5

scallions

1

bunch of fresh mint leaves

(about 1 cup)

2-3

bunches of fresh parsley

(about 4-6 cups)

2

Roma tomatoes or 3 tomatoes on the vine

Juice of 1 lemon or lime

(2 tbsp.)

2

tbsp.

olive oil

2/3

cup

uncooked lentils

1

tsp.

salt
Tahini Sauce
1

tbsp.

tahini paste

¼

tsp.

lime juice

Pinch of salt

or to taste

1

tbsp.

cold water

(more depending on how saucy you like your sauce)

1/8

tsp.

ground cumin seeds
Chicken
2

large chicken breasts

¼

tsp.

salt

½

tsp.

black pepper

2

cloves

large garlic,

minced

Juice of ½ lime

½

tsp.

allspice

¼

tsp.

cinnamon

¼

tsp.

nutmeg

½

tsp.

oregano

1/8

tsp.

cayenne

(optional - more or less to taste)

1

tbsp.

olive oil
Instructions
Lentil Tabbouleh
Rinse your lentils under tap water in a strainer.

Add the rinsed lentils and water (3 parts water to 1 part lentils) to a pot and bring the water to a boil, then lower the heat to a gentle simmer for about 20-25 mins until the lentils are tender. Add in the salt and set aside to cool.

Place the scallions and mint in your food processor and process until they're finely minced, but not bruised. Remove them into a large bowl and set aside.

Using the same food processor, start pulsing the parsley in four batches, and make sure not to fill the processor bowl more than halfway. It's always better to pulse rather than process to make sure the parsley is the same size.

Remove the parsley and place it in the bowl with the mint scallion mixture. Repeat until all the parsley is done.

Finely chop the tomatoes. Then add them into the parsley mixture.

Toss the parsley, tomatoes and mint scallion mixture then add in the cooked lentils, salt, lemon juice and olive oil.

Serve the tabbouleh salad with a thin drizzle of tahini sauce or leave it on the side.
Tahini Sauce
In a bowl, whisk the tahini with lime juice and salt. You will notice a change in texture and body of the tahini paste but don't worry, it will become silky smooth with the water and constant whisking. So whisk in the water right away and add the cumin at the end.

Thin out the sauce with water to your desired consistency. The tablespoon water will make a thick sauce. Now taste and adjust the salt, cumin or more lime to your taste.
Chicken
Slice each chicken breast in half. Then season with all the ingredients.

Grill the chicken right away for 5-7 mins per side on medium-high heat (depending on the thickness of your chicken).

Serve them alongside the salad with tahini sauce.
Nutrition Info Per Serving
Nutrition Facts
Lentil Tabbouleh with Grilled Chicken
Amount Per Serving
Calories 345
Calories from Fat 139
% Daily Value*
Fat 15.4g24%
Cholesterol 0mg0%
Sodium 781.8mg33%
Potassium 874.6mg25%
Carbohydrates 32g11%
Protein 25.3g51%
Vitamin A 8430IU169%
Vitamin C 209.4mg254%
Calcium 140mg14%
Iron 6.8mg38%
Net carbs 18.9g
* Percent Daily Values are based on a 2000 calorie diet.