This Marinated Flank Steak with Roasted Mushrooms, Tomatoes, and Zucchini is perfect for any time of the year! Even with cooler weather, bringing out the grill is always a treat. The bright flavors of the marinade will quickly transport you to warmer weather.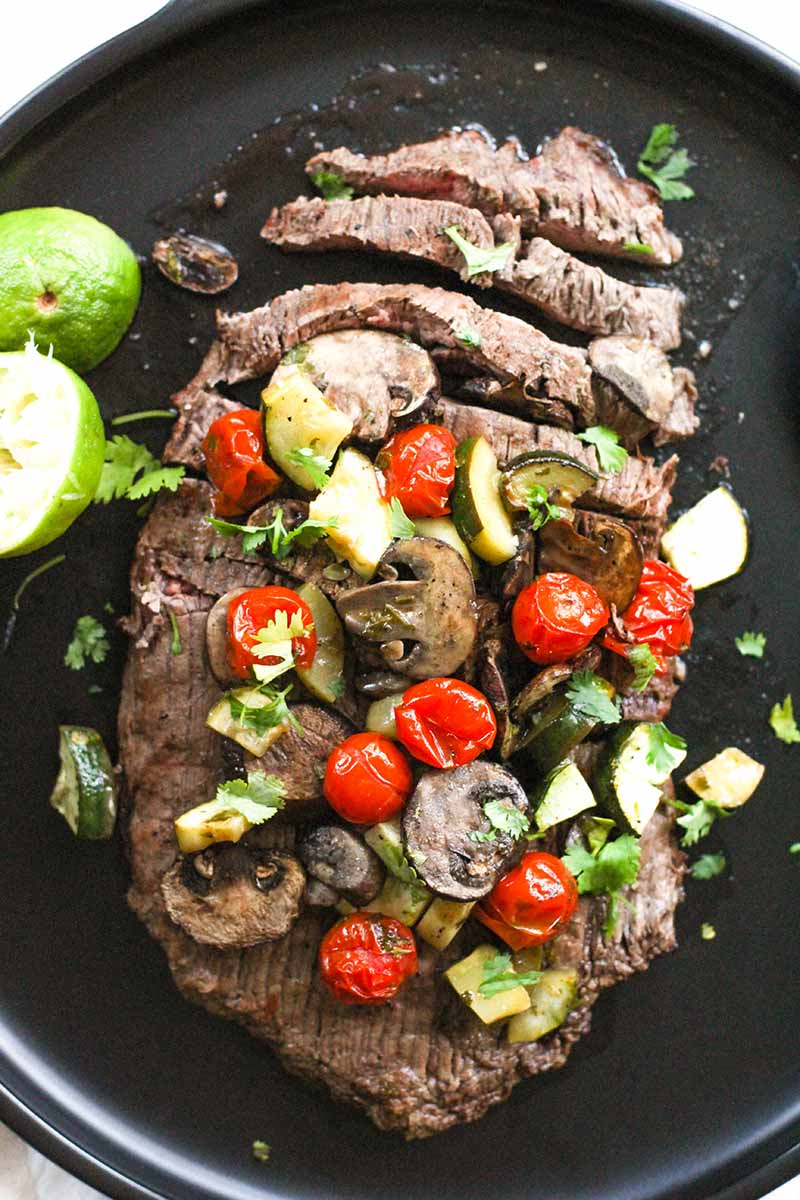 If you don't feel like grilling (or if your grill is covered by a foot of snow), just use a grill pan or a regular pan on the stove instead. It works just as well.
Marinating the flank steak
The marinade is made up of lime juice, garlic, ginger, red pepper flakes, and cumin. It's got a great southwestern kick with the acidity of the lime juice. The red pepper flakes add a lot of flavor, but if spicy isn't something you like, try cutting that down or removing it. Add a little paprika instead for the same heat without the kick.
Try to marinade the steak as long as you can. More of the flavors will work themselves into the steak and make it tender. I've let it marinade for around 4 hours and loved how flavorful it was. I recommend at least 30 minutes if you don't have the time. Leaving it overnight is always another option! Just come back after work and have it ready to go.

Roasting your veggies
Roasting veggies is always my go-to to get great flavor in a short amount of time. The mushrooms, tomatoes, and zucchini go great with the steak and even more so when they're covered in coconut oil, cilantro, and lime juice!
Steak and mushrooms a classic combination and a favorite of mine, but if you like other veggies, feel free to try those! Some onions and red skin potatoes would be great for a fall night.
I ate this marinated flank steak by itself, but it's so versatile that you have lots of options. Put some on lettuce for a great salad or throw it in a wrap for a great lunch at work the next day. You can double the batch of the marinade and use half for the actual marinade then use the other half as a dressing! It'll go great on the salad, in a wrap, or even just to drizzle on top or dip with!
Recipe Card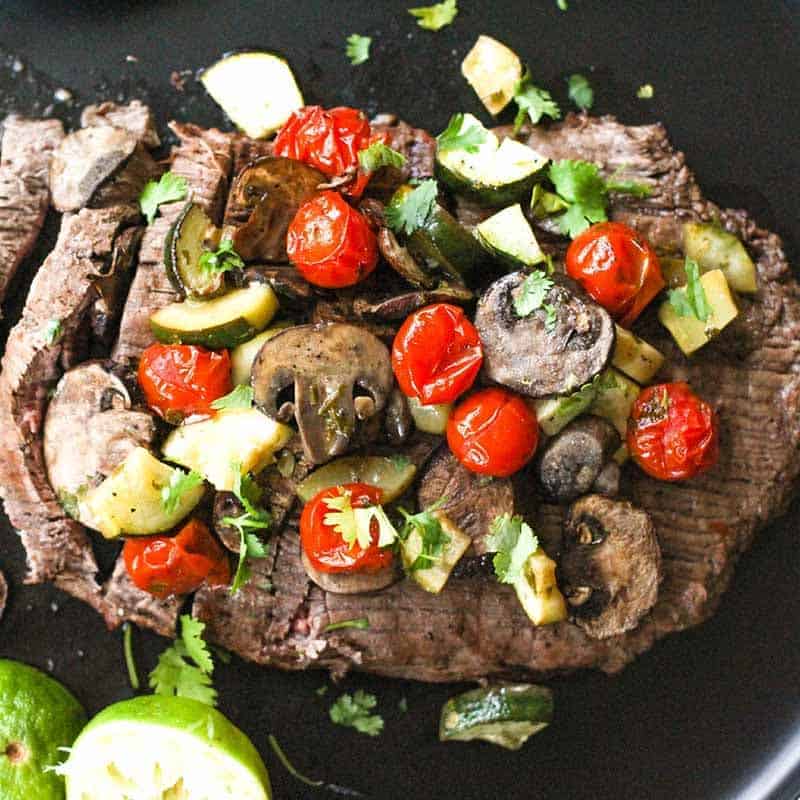 Marinated Flank Steak with Roasted Veggies
This Marinated Flank Steak with Roasted Mushrooms, Tomatoes, and Zucchini is perfect for any time of the year. Super juicy and flavorful!
Ingredients
Marinade
¼

cup

(60 ml) lime juice

1

clove

garlic,

minced

½

tbsp.

ground ginger

¼

tsp.

red pepper flakes

¼

tsp.

cumin

½

tsp.

salt

¼

tsp.

pepper
Roasted veggies
8

oz.

(225 g) sliced mushrooms

1

pint

(300 g) grape tomatoes,

halved

1

zucchini,

cubed

1

tbsp.

coconut oil,

melted

¼

handfull

cilantro,

chopped

2

tbsp.

lime juice

¼

tsp.

salt

¼

tsp.

pepper
Instructions
Marinade
Mix lime juice, garlic, ginger, red pepper flakes, cumin, salt, and pepper in a bowl. Place the flank steak in a gallon bag and pour in the marinade. Close the bag and mix around to fully cover the steak. Let it sit in the refrigerator for at least 30 minutes and preferably a few hours.
Flank steak
Preheat the grill. When ready, remove steak from marinade and place on grill. Grill on both sides for 8-10 minutes. Remove and let sit for 10 minutes before cutting.
Roasted veggies
Preheat oven to 400F. While the steak is grilling, place cut mushrooms, tomatoes, and zucchini on a large cooking sheet. Pour over melted coconut oil and ensure all veggies have been covered. Sprinkle cilantro, lime juice, salt, and pepper over the veggies and mix around again. Roast for 15-20 minutes, until tender. Mix around halfway through to ensure even cooking. Remove from heat and set aside.
Serving
Once the steak is done resting and veggies are roasted, slice the steak and serve with veggies. Enjoy!
Nutrition Info Per Serving
Nutrition Facts
Marinated Flank Steak with Roasted Veggies
Amount Per Serving
Calories 241
Calories from Fat 104
% Daily Value*
Fat 11.5g18%
Cholesterol 75mg25%
Sodium 349mg15%
Potassium 299mg9%
Carbohydrates 8.3g3%
Protein 26.6g53%
Vitamin A 495IU10%
Vitamin C 29.9mg36%
Calcium 6mg1%
Iron 2.4mg13%
Net carbs 6.4g
* Percent Daily Values are based on a 2000 calorie diet.