Summer calls for colorful dinners made in no time at all and these healthy and easy Beef Fajitas are perfect for that. You can have them ready in less than 20 minutes from the time you decide to start cooking!

How to fry beef fajita strips
I have to give you a few great tips on how to stir-fry beef fajita strips because there is a little bit of an art to making sure they stay nice and juicy.
The number one mistake most people make is adding all the strips to the pan at once while they are still cold from the fridge. That will lower the temperature in the pan and make the strips boil instead of fry.
Instead of doing that, take the strips out of the fridge 30 min before frying so they can get to room temperature and fry them in several batches if you are making a lot. You also want the pan to be SMOKING hot. Wait at least a few minutes for the pan and oil to properly heat up.
Another great reason to cook the strips in batches is that they get a more even frying if they don't touch each other in the pan. It only takes about 3 minutes to cook each batch so the overall time doesn't get much longer by splitting the strips into batches.

Veggies for your healthy beef fajitas
In my opinion, bell peppers are the perfect veggie for stir-frying. They are a little bit sweet while still being savory, and they keep their firm consistency when heated. Combined with onion, they form the basis of a lot of my stir-fry recipes.
Bell peppers are also great from a nutritional standpoint as they are loaded with vitamin C and high in other vitamins and minerals as well.
Other easy and healthy recipes
You can never have enough healthy and tasty recipes that are also easy to make, right? Here are some of my favorites:
For even more healthy recipes, check out my roundup of the best healthy dinner recipes for diabetics.
When you've tried this easy beef fajita recipe, please don't forget to let me know how you liked it and rate the recipe in the comments below!
Recipe Card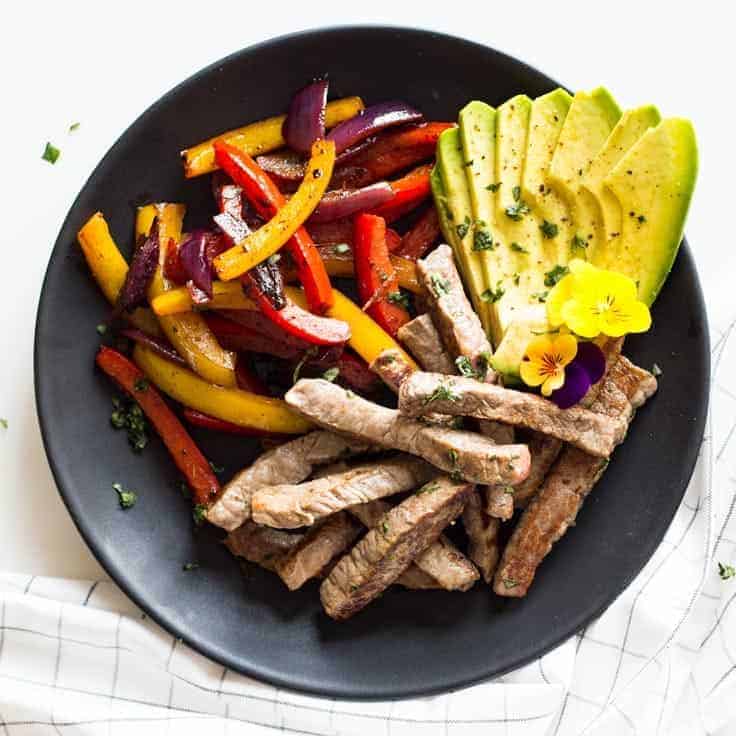 Healthy & Easy Beef Fajitas You Can Make in 15 Minutes
You can make this easy fajita recipe in only 15 min. to get a delicious and healthy high-protein dinner
Ingredients
1

lbs.

beef stir-fry strips

1

medium red onion

1

red bell pepper

1

yellow bell pepper

½

tsp.

cumin

½

tsp.

chilli powder

splash of oil

Salt

Pepper

Juice of half a lime

Freshly chopped cilantro

(also called coriander)

1

avocado
Instructions
Wash and deseed bell peppers and slice them into 1/4" (0.5 cm) thick long stripes. Set aside

Peel and slice red onion. Set aside

Once skillet is hot, add a splash of oil. When the oil is hot, add stir-fry strips in 2-3 batches. Make sure the strips don't touch each other. Salt and pepper each batch generously in the pan

Cook for about 1 minute per side, then remove and set aside on a plate and cover to keep warm

Add sliced onions and bell peppers to the remaining meat juice. Season with cumin and chili powder and stir-fry until desired consistency. (I like them still crunchy, so I only stir-fry for about 5 minutes. If you like your vegetables softer, stir-fry for a little longer).

Serve on a plate with sliced avocado, a drizzle of lemon juice, and a sprinkle of fresh coriander.
Nutrition Info Per Serving
Nutrition Facts
Healthy & Easy Beef Fajitas You Can Make in 15 Minutes
Amount Per Serving
Calories 336
Calories from Fat 151
% Daily Value*
Fat 16.8g26%
Cholesterol 86mg29%
Sodium 67mg3%
Potassium 375mg11%
Carbohydrates 10.6g4%
Protein 30.5g61%
Vitamin A 2400IU48%
Net carbs 6.2g
* Percent Daily Values are based on a 2000 calorie diet.