Metformin is one of the most commonly prescribed diabetes drugs in the United States, with over 85 million prescriptions currently in use.
People usually take metformin if they have type 2 diabetes and are struggling with insulin resistance (decreased sensitivity to insulin) and higher-than-normal blood sugars. 
Metformin may cause a lot of side effects, but one of the most common questions about the drug is if it causes weight loss.
Let's take a look at what the research says about metformin and weight loss.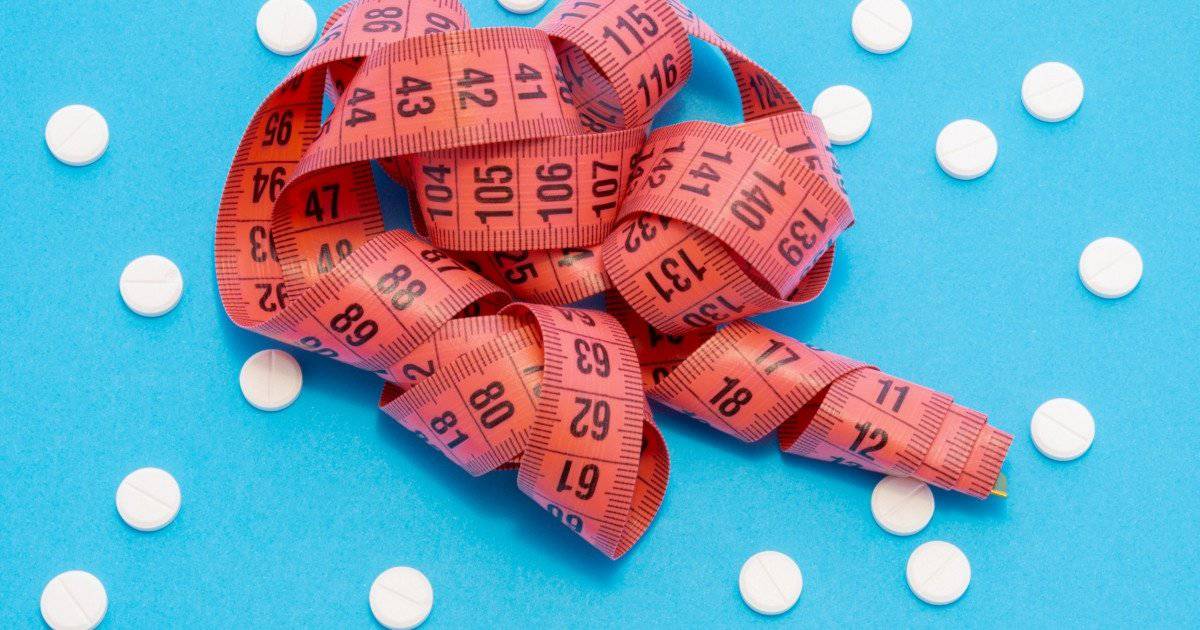 How metformin works
Metformin works by lowering the amount of glucose released from the liver, and by helping existing insulin produced by the body work better, thus lowering blood sugar levels. 
As your body is better able to metabolize glucose, your risk of diabetes complications such as heart disease, stroke, neuropathy, and even retinopathy substantially decrease.
Does metformin cause weight loss? 
While not technically classified as a weight-loss drug, researchers have found a strong link between taking metformin and weight loss. 
A longitudinal study published in the journal Diabetes Care concluded that metformin can be successfully taken to lose excess body weight. 
Metformin can help you lose weight for several reasons:
Better blood sugar control
Since metformin is proven to improve insulin sensitivity and thus blood sugar control, people with type 2 diabetes whose bodies are not appropriately releasing insulin and regulating their blood sugars (i.e. have higher blood sugar levels despite also having excess insulin in their bloodstream), may see modest reductions in body weight. 
This is mostly due to the fact that the body will stop over-releasing insulin into the bloodstream, and their bodies will start to metabolize glucose appropriately. When insulin resistance goes down, weight often does, too.
However, in a very small proportion of the population (mainly people with previously undiagnosed type 2 diabetes whose hba1c levels were extremely high), people may see a modest gaining of weight initially, especially if they were in diabetic ketoacidosis (DKA) at diagnosis.
This is a very rare occurrence because most people with type 2 diabetes at diagnosis are still producing insulin and their hba1c is only slightly elevated. Furthermore, most people with type 2 diabetes are not in DKA at diagnosis; their bodies are still producing insulin to keep them out of DKA, but they're just resistant to the insulin that's being released by their pancreas.
Reduced hunger cues
One documented side effect of the drug is reduced hunger, which usually results from lower amounts of insulin in the blood and fewer blood sugar spikes that can send not only your blood sugar, but also your hunger, soaring.
Metformin also helps eliminate hunger cues. In one study of women that had type 2 diabetes (but were not on insulin), researchers found that of three groups (one group had a placebo pill, and the other two groups had varying amounts of metformin), the group on the highest amount of metformin (1,700 mg, three times per day), had significantly less hunger both before and after meals than the other two groups. 
That group was also more likely to eat less than the other two groups as well.
Even just eating a few hundred fewer calories per day can cause moderate, noticeable, weight loss over time. Eating 200 fewer calories per day for only 18 days can cause you to lose 1 pound of body fat (which is equal to 3,500 calories).
Eating 200 fewer calories per day for an entire year can cause you to lose over 20 lbs! Small, subtle changes can make a big difference.
Related: How to Find Your Daily Calorie Need.
Healthier lifestyle habits
Many people may lose weight while taking metformin if they are also incorporating dietary changes and increasing their physical activity at the same time. 
Starting a metformin regimen without any lifestyle changes will most likely only lead to a modest drop in weight. 
The following strategies will help accelerate your weight loss if you've just started on a metformin regimen: 
Exercise for 30 or more minutes per day, most days of the week
Incorporate resistance training 2-3 times per week
Switch from all sugar-sweetened beverages to water or other no-calorie drinks
Increase your protein intake and lower your added-sugar and refined carbohydrate intake
Eat plenty of healthy fruits and vegetables
Increase your fiber intake
Work with your doctor when creating an eating and activity plan that will work for you and your lifestyle.
Gastrointestinal upset
While not the most pleasant side effect, having an upset stomach with the accompanying nausea, vomiting, and diarrhea that can sometimes occur, can also contribute to weight loss in patients taking metformin, especially when first beginning treatment. 
According to a study published in the Journal of Research in Pharmacy Practice, gastrointestinal upset is the chief complaint amongst patients when starting metformin treatment in their original, tablet formation. 
GI side effects can affect up to 63% of people who take metformin! Bloating, nausea, and diarrhea can be so troubling that you may shirk eating meals, and subsequently eat fewer calories, resulting in weight loss. 
If at any point you feel that your weight loss is dangerous (having trouble keeping your blood sugars stable or out of a dangerously low range) or you're becoming dehydrated, contact your doctor immediately or seek emergency medical help.
Read more: Metformin Side Effects: What You Need to Know.
What is the correct dosage to experience weight loss?
According to the Mayo Clinic, patients taking oral extended-release tablets usually start between 500-1000 mg taken per day, and work their way up to 2,500 mg per day (not to exceed that amount). 
If you are taking metformin for weight loss, work with your doctor to determine the appropriate starting dose for you. 
Do NOT increase your dose without your doctor's guidance, as you may experience severe side effects, such as nausea, vomiting, diarrhea, bloating, and muscle weakness. 
Read more: Metformin Dosage Guide
What is the average weight loss with metformin?
The typical weight loss after one year of metformin use is only between 4-7 lbs. Many people believe that metformin can act as a magic weight loss pill, but this is usually not the case. 
If you are struggling with insulin resistance and ready to make lifestyle changes (altering your diet and adding in regular exercise), talk with your doctor about incorporating metformin into your routine to aid in weight loss. 
However, taking metformin alone will not cause substantial weight loss. 
What to do if you are losing too much weight on metformin 
If you are taking metformin for insulin resistance, but feel that you are losing too much weight (or losing weight when you don't want to), know that any initial side effects, such as gastrointestinal discomfort, typically go away over time. 
There may be other causes contributing to your weight loss, such as:
Higher-than-normal blood sugar levels
Ketones in your urine
Other medications (thyroid or cancer drugs like chemotherapy, for example)
Chronic diarrhea
Stress
Anxiety
Irritable Bowel Syndrome (IBS)
Food allergies
Food intolerances, like Celiac Disease
Depression
Infection
If you are losing weight rapidly and don't know why, call your doctor immediately.
They will be able to help you troubleshoot a solution, and potentially stop your metformin treatment, if needed. 
Can I take metformin for weight loss without having diabetes? 
In some instances, metformin may be prescribed to people who do not have diabetes but are still struggling with prediabetes or insulin resistance. In these cases, weight loss would be a side effect of improving one's insulin resistance. 
Talk with your doctor if you feel you are experiencing insulin resistance and/or decreased insulin sensitivity.
If you don't have prediabetes or insulin resistance, a doctor may prescribe metformin "off-label" (without FDA approval) for moderate weight loss. 
There are fewer peer-reviewed studies on the success of using metformin off-label, but many people have found success when incorporating metformin use with a healthier diet and exercise. 
Conclusions
Considering all factors, metformin can cause a modest amount of weight reduction in those who take the medication regularly, although average weight loss is only between 4-7 pounds per year. 
This is why metformin is not classified as a weight-loss drug, but merely a prescription medication to help those with insulin resistance better manage their blood sugars. 
If you are overweight and/or obese, are taking metformin, and wish to experience sustainable weight loss, work with your doctor on figuring out a dietary plan and exercise regimen that will work for you. 
If you wish to take metformin solely for weight loss, talk with your doctor to see if you are able to use it "off-label". Your doctor will work with you to determine the appropriate starting dose. 
Keep in mind that once you stop metformin therapy, there is a good chance your weight loss will plateau, and you may even gain back any weight that you've lost. This is why it's important to incorporate a healthy diet and a regular exercise routine along with taking metformin for weight loss.
If you're worried about the amount of weight you're losing while taking metformin, contact your doctor, who can troubleshoot solutions with you, including potentially weaning you off of the medication.