Metformin is one of the most prescribed drugs on the planet with over 120 million people taking it for type 2 diabetes management and weight loss.
While it is generally well-tolerated, like all medications, it can have side effects.
In this article, we'll look at how metformin works, its common, uncommon, and serious side effects, and how to alleviate those side effects.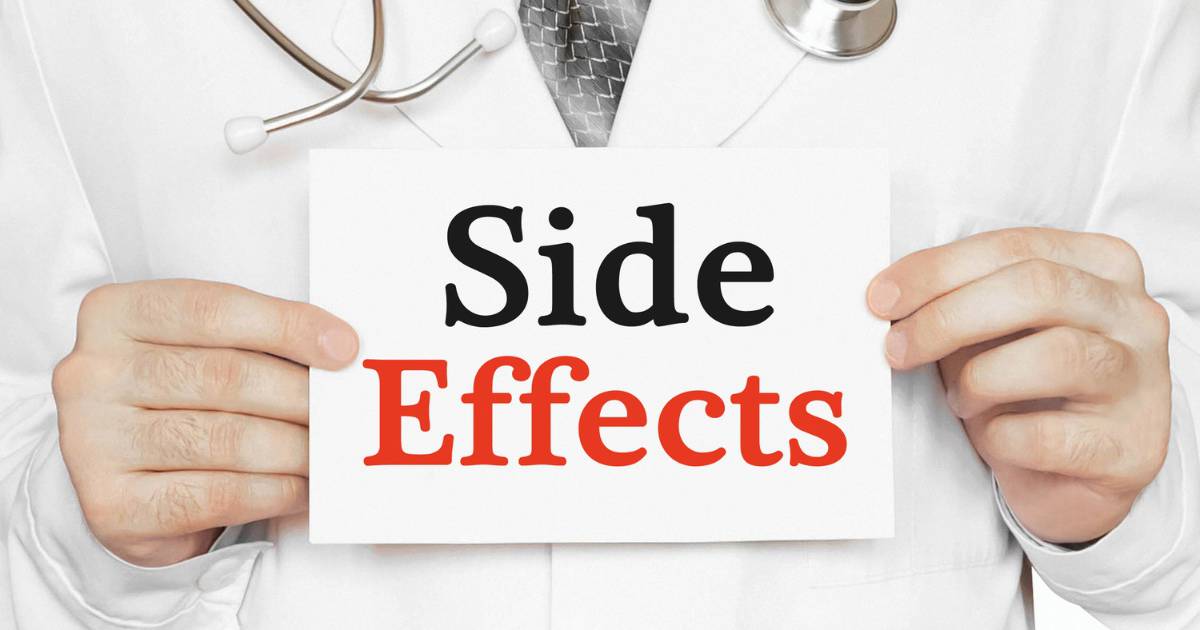 How metformin works
Metformin works by reducing the amount of sugar your liver releases throughout the day, and by increasing your body's sensitivity to insulin.
It also reduces the amount of glucose that is absorbed from the food you eat, which in turn reduces your blood sugar levels after eating.
Common side effects of metformin
The most common side effects of metformin include:
Diarrhea (varying from mild to severe)
Flatulence
Nausea or vomiting
Bloating and constipation
Overall uncomfortable stomach
Heartburn
Headache
Decreased appetite and weight loss
Muscle pain or cramping
Some people also experience an unpleasant metallic taste in the mouth after taking metformin.
Metformin's side effects usually appear quickly after your first dose and while they can improve for some after a few weeks, others may find they persist.
That being said, some people may not experience uncomfortable side effects until they've been taking the drug for months or a year.
Uncommon (serious) side effects of metformin
Vitamin B12 deficiency
Recent research has shown that long-term use of metformin can result in vitamin B12 deficiency in some people. Left untreated, B12 deficiency can cause significant nerve damage, leading to a diagnosis of peripheral neuropathy.
If a doctor isn't aware of this risk, they could misdiagnose the cause of a patient's neuropathy as the result of high blood sugar levels when it may be the side-effect of metformin.
This nerve damage is irreversible, but further damage can be prevented by supplementing with a regular dose of vitamin B12.
Everyone taking metformin should have B12 levels tested annually. Anyone with inadequate levels should start taking a B12 supplement immediately.
Lactic acidosis
There have been a significant number of studies on metformin's risk of inducing lactic acidosis — a state in which lactic acid builds up in the body, which can be fatal.
Metformin comes with a "black box" warning about this risk, the most severe warning that the Food and Drug Administration (FDA) issues.
However, the greater majority of studies concluded without any cases of lactic acidosis according to "The Phantom of Lactic Acidosis due to Metformin in Patients With Diabetes" in the American Diabetes Association's (ADA) Diabetes Care journal.
"The number of documented cases of metformin-associated lactic acidosis is small when one considers how widely metformin is used," explains the ADA. "That metformin has been used safely in patients with contraindications can be viewed as evidence that it does not cause lactic acidosis."
Almost all cases of lactic acidosis from metformin use are results of overdoses – not normal use of the drug.
"Cases of lactic acidosis from metformin overdoses, particularly in young people without risk factors, suggest that metformin can cause lactic acidosis primarily if given in large doses."
Patients at greatest risk for developing lactic acidosis while taking metformin are those with other conditions including kidney or liver issues, a history of heart attacks or acute heart failure, and patients who drink alcohol frequently.
Hypoglycemia (low blood sugar)
Metformin only very rarely causes hypoglycemia in people with diabetes who are not taking insulin injections, because it doesn't increase insulin production like many other diabetes medications.
Call your doctor if you have any symptoms of hypoglycemia, which can include:
Weakness
Tiredness
Nausea
Vomiting
Stomach pain
Dizziness
Lightheadedness
Abnormally fast or slow heartbeat
"Fake" low blood sugar
While this isn't a negative side effect, it's important to be aware of when starting on metformin.
When you drop your blood sugars to a "normal" range after running consistently high for a while, you may experience "fake" symptoms of low blood sugar.
Because your body has become used to high blood sugars, returning to normal levels may make you feel dizzy, lightheaded, nauseous, and extremely hungry.
This should pass after a few days to weeks as your body adjusts to your new normal blood sugar levels.
If you're feeling low, always check your blood sugar to make sure you aren't experiencing a real low blood sugar (below 70 mg/dl) that requires treatment with glucose.
Allergic reactions to metformin
Allergic reactions to metformin are rare, but they do happen. Symptoms of an allergic reaction can include:
Rash
Hives
Itching
Swelling of the face, lips, or tongue
Difficulty breathing
If you experience any of these symptoms, seek medical attention immediately.
Reducing metformin side effects
Fortunately, there are a few things you can do to alleviate, lessen, or altogether prevent the side effects caused by metformin.
Take your dose during your meal, not before
The first is to take your metformin dose halfway through eating your meal rather than before you start eating.
Patients report far less stomach distress if there is already food within their stomach by the time their metformin dose is being digested, too.
Start with a very small dose
By starting with an extremely small dose, instead of the full dose your doctor would normally prescribe for your height and weight, you may be able to drastically reduce those initially uncomfortable side effects.
Talk to your doctor about adjusting your doses in order to give your body time to acclimate to the drug.
Read more: Metformin Dosage Guide (Min and Max Doses)
Ask for the "extended release" version
Too often, doctors prescribe the regular version without any consideration for the extended-release (ER) version.
When taking the ER version, each dose is slowly released over the course of several hours versus all at once, which significantly reduces the unwanted gastric side effects. While it does cost more, it could greatly reduce metformin's side effects.
However, you may need to try the regular version first. This is so your doctor can tell your insurance company you tried it, and it wasn't the right medication for you. Then they will be more likely to cover the more extended "ER" version.
Combine it with other diabetes medications
If you and your healthcare team intend to start you on a GLP-1 drug like Victoza or Byetta, the side effects of metformin can actually give balance to the constipation side effects of most GLP-1 drugs.
By taking both drugs as part of your diabetes management plan, the side effects of both drugs essentially balance each other out.
Read more: Metformin Combination Drugs for Type 2 Diabetes
Try something else
There are simply some people who do not tolerate metformin. If you find you cannot bear to endure the side effects, talk to your healthcare team.
If you choose to stop taking metformin, your healthcare team can help you find a different type of diabetes medication to improve your blood sugar levels.
Read more: The Best Alternatives to Metformin for Type 2 Diabetes Management
Who should avoid taking metformin?
Like most medications, there are a few types of patients who shouldn't take metformin.
For metformin, the concern is based largely on the fact that it can raise your risk of producing too much lactic acid. Clearing that lactic acid from your body requires healthy organ function!
If you have been diagnosed with kidney or liver issues: Your liver and your kidneys both play a critical role in clearing metformin from your body. If your kidneys or liver are already struggling to function, you wouldn't want to add to their workload by taking metformin.
If you have had a heart attack or acute heart failure: Serious heart conditions can affect how much blood is pumped to your kidneys, which can reduce your overall kidney function.
Because the kidneys play a crucial role in clearing metformin from your body, patients with a history of heart issues should not take metformin.
If you drink alcohol often or in great quantity: Again, because metformin relies on the function of a healthy liver and kidneys, a person who drinks large amounts of alcohol regularly would be putting themselves at an increased risk for other issues if they took metformin.
Read more: Metformin & Alcohol: Can You Drink While Taking Metformin?
Conclusion
While metformin is generally well-tolerated, it can have side effects like any medication.
The most common side effects are mild and gastrointestinal in nature, but more serious side effects like lactic acidosis and vitamin B12 deficiency can occur.
If you experience any symptoms while taking metformin, talk to your doctor about adjusting your dose, switching to extended-release tablets, or trying a different medication.
If you experience any serious or life-threatening symptoms, seek medical attention immediately.