These homemade low-carb Peanut Butter Protein Balls are among my favorite healthy snacks. They are easy to make no-bake protein balls that will keep fresh in the fridge for days.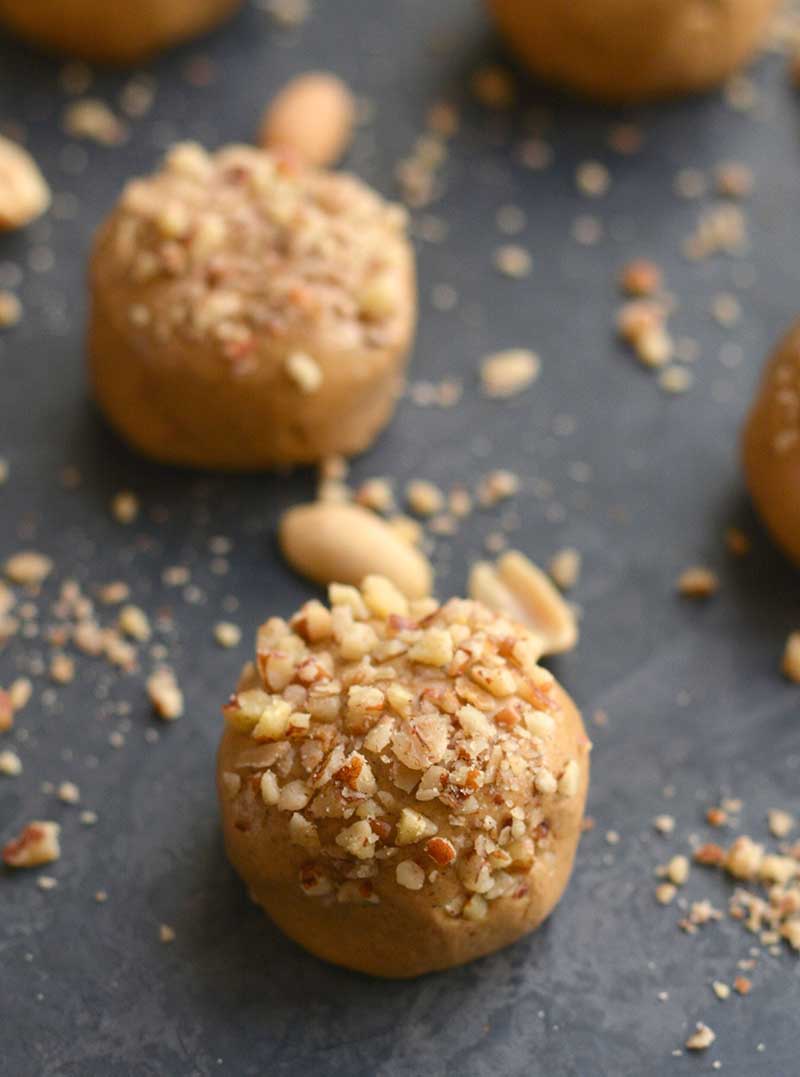 I have wanted to create a recipe for low-carb protein balls for a while now, and a few weeks ago, I finally found the time to experiment in the kitchen. These healthy low-carb peanut butter balls are the result!
How to make low-carb Peanut Butter Protein Balls
It's super easy! If you have a blender, you will be done in 10 minutes. If you don't have a blender, it may take you 12 minutes.
You can see how I do it in this short video:

Note: I have reduced the amount of protein powder I use slightly since I made this video. Please use the amount listed in the recipe description below.
The two most important steps actually happen before you start rolling the protein balls:
Buy the right peanut butter – You want a peanut butter that's as natural as possible. No added sugar, salt, or preservatives – just peanuts! You also want creamy peanut butter rather than chunky.
Buy the right protein powder – I like Met-RX Vanilla Protein but any good brand will do as long as you like the taste. The vanilla in the protein powder adds sweetness and flavor to the protein balls so it's an important part of the recipe, even if you also add vanilla extract.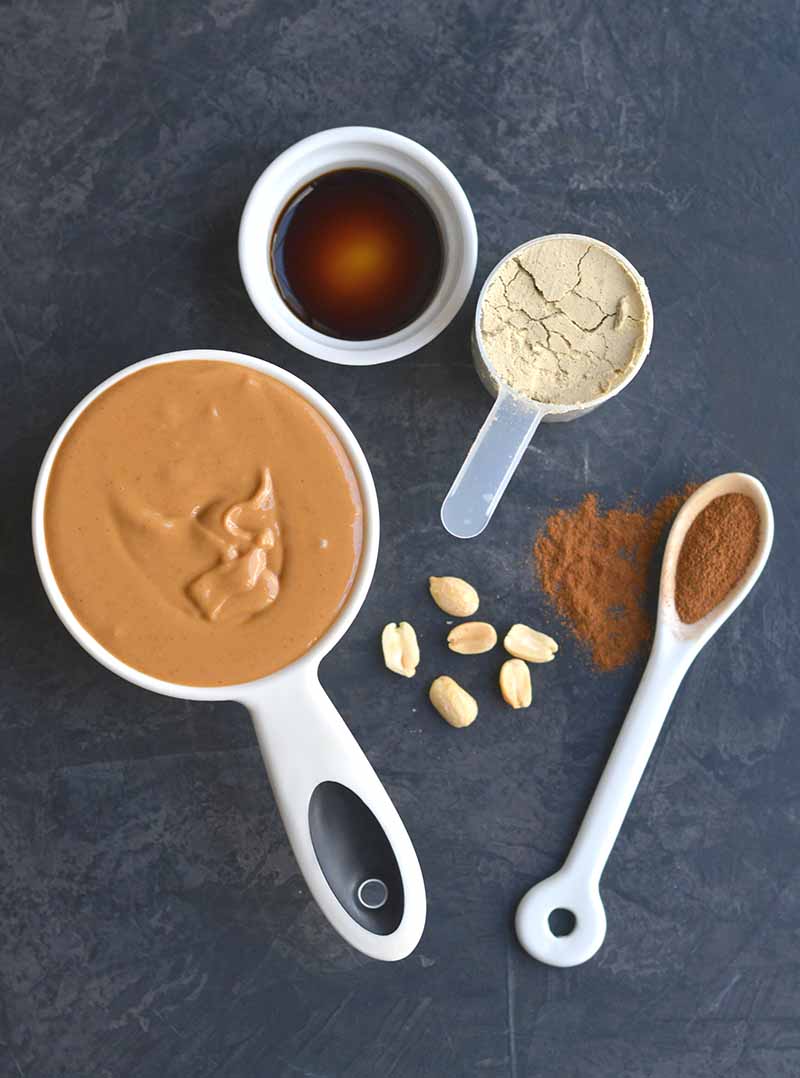 When you have the right ingredients, all you have to do is mix the peanut butter and protein powder with vanilla extract, cinnamon, and Stevia powder in a bowl. Then roll the mix into about 15 1-1.5 inch balls.
Pro tip 1: Mix your peanut butter well before using it. The peanut butter jar will often have more oil on top and more solids at the bottom, which can make the protein balls either too runny or too dry if you don't mix the peanut butter.
Pro tip 2: If the mix is too sticky to work with, place it in the freezer for 10 minutes before rolling the balls. I do that sometimes, but I also live in Los Angeles in an apartment without air condition so it gets HOT!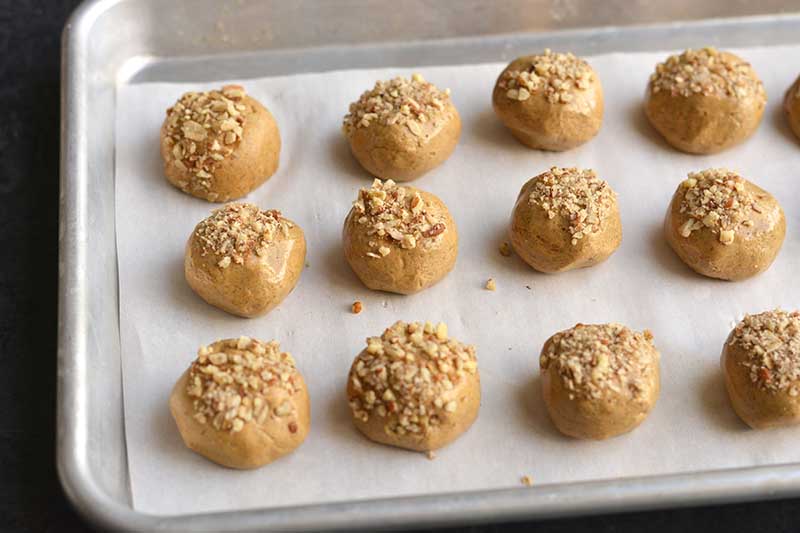 Blend (or chop) about 20 raw unsalted peanuts very briefly (you want small chunks, not peanut flour) and roll the peanut butter balls in the peanut chunks. Put the peanut butter balls on a baking sheet lined with parchment paper and place them in the refrigerator for at least 20-30 minutes so they can set.
You can keep the peanut butter protein balls in the fridge for several days or store them in the freezer in a sealed container for up to 6 weeks.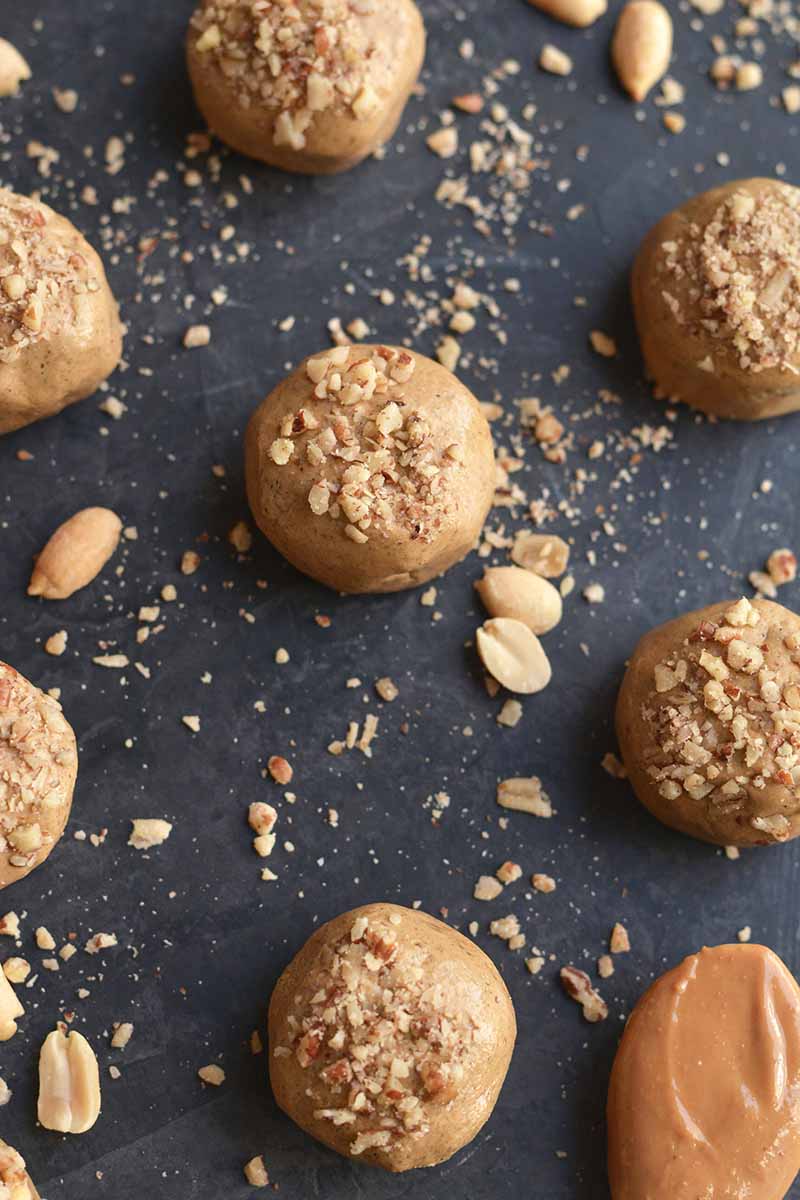 How many calories are in a protein ball?
That's the first question most people ask when I describe this recipe, and I totally get it. These peanut butter protein balls are low-carb but they are NOT low-calorie. Each protein ball has 126 calories, 7 g protein, 10 g fat, and less than 5 g carbs.
That's a lot of calories for a relatively small snack, but it's all healthy calories. I can't always fit peanut butter protein balls into my meal plan, but I am a very happy girl when I can because they taste SO GOOD!!
More healthy high-protein snacks
There are a lot more healthy high-protein snacks to choose from here on Diabetes Strong. Here are three of my favorites:
If you follow a ketogenic diet (or another high-fat diet), you can also try our Chocolate Keto Fat Bombs instead. The taste is very similar to these protein balls but they contain five sources of healthy fat and less protein.
When you've tried the healthy low-carb Peanut Butter Protein Balls, please don't forget to let me know how you liked them and rate the recipe in the comments below!
Recipe Card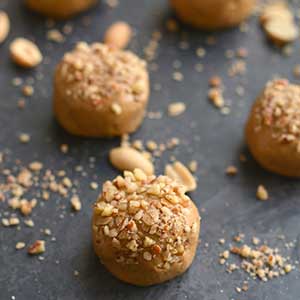 Peanut Butter Protein Balls
These homemade Peanut Butter Protein Balls are low-carb, no-bake, gluten-free and will keep fresh in the fridge for days.
Instructions
Place the raw peanuts in a blender (I use my NutriBullet) and pulse several times until they become crumbly. Transfer to a plate then set aside.

Mix the remaining ingredients together in a bowl until smooth.

Roll the dough into 15 1-1.5 inch balls.

Roll the balls in the peanut crumbles and transfer them to a baking sheet lined with parchment paper.

Place in the refrigerator and let set for at least 20-30 minutes.

Keep in the refrigerator or freeze in a sealed container for up to 6 weeks.
Nutrition Info Per Serving
Nutrition Facts
Peanut Butter Protein Balls
Amount Per Serving (1 ball)
Calories 126
Calories from Fat 86
% Daily Value*
Fat 9.6g15%
Cholesterol 1.2mg0%
Sodium 10.1mg0%
Potassium 135.5mg4%
Carbohydrates 4.7g2%
Protein 7.6g15%
Vitamin A 0IU0%
Vitamin C 0mg0%
Calcium 63mg6%
Iron 0.5mg3%
Net carbs 2.7g
* Percent Daily Values are based on a 2000 calorie diet.
Photos and recipe testing by Megan from Skinnyfitalicious.com