Who says you can't have cake for breakfast? Or at any other time of day, for that matter? This healthy High Protein Berry Crumble looks and tastes like cake, but it actually has a great mix of protein and carbs, perfect for a healthy breakfast or snack.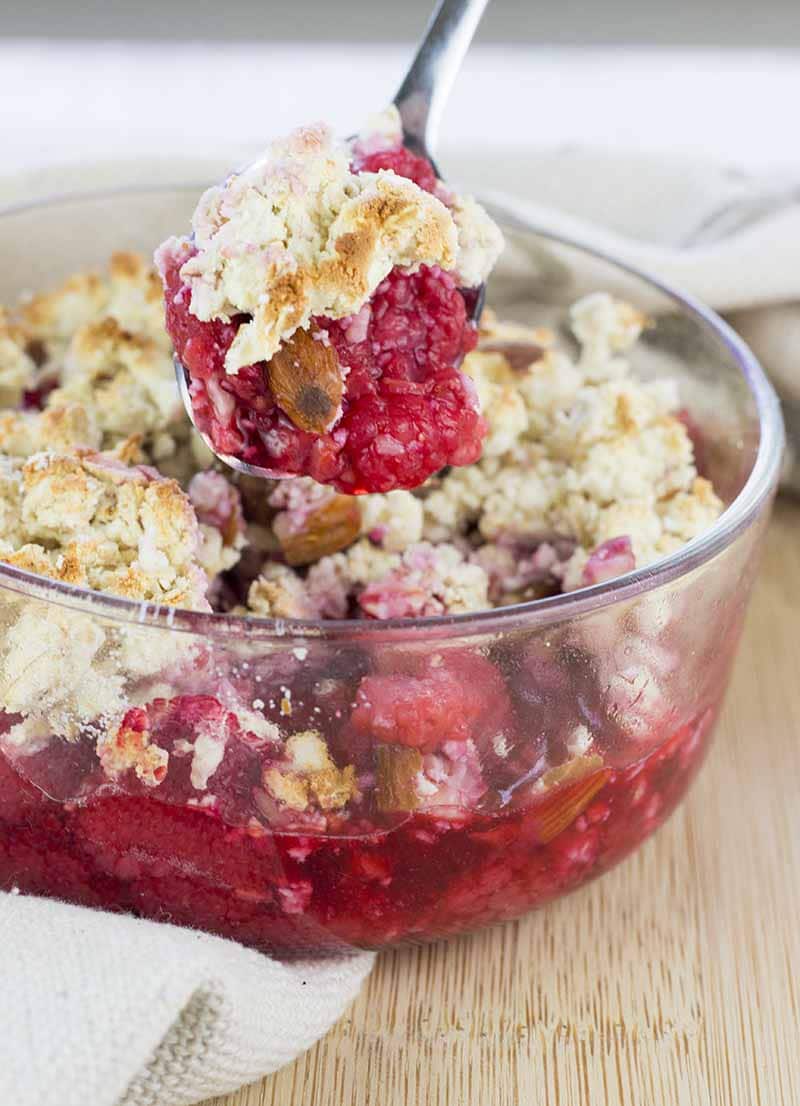 High protein berry crumble! I'm pretty sure no sweeter words have ever been spoken.
You can eat this High Protein Berry Crumble for breakfast, dessert, or as a snack. Honestly, you could get away with eating it for lunch or dinner too… maybe with a few vegetables on the side to round out your meal.
I'm not sure how great that would taste, but you get the point. This is a really healthy cake!
I usually make my berry crumble with raspberries or mixed berries, but almost any type of berries will work. You can also use frozen berries, but you need to defrost them first.
I always have a bag of berries in the freezer, so I can make this berry crumble whenever I have the munchies for something sweet and scrumptious, but still healthy.
Not sugar – Protein!
The trick to making this healthy crumble is to skip the sugar and use protein powder instead. I know this may sound strange, but protein powder is actually great for baking. It can add sweetness and flavor (and protein of course) without adding any extra sugar or carbs.
Not all protein powders are good for cooking. I use Met-rx Vanilla Protein Powder because it keeps its consistency and flavor when heated.
Honestly, I have served this High Protein Berry Crumble Oatmeal Cake for at least twenty people by now, and not one picked up that it was made with protein powder — none of them even suspected that it wasn't a "normal" berry crumble. It tastes just perfect!
If you don't care about the macronutrients, you can leave out the protein powder and use a little oat flour instead. You can also make the recipe vegan by using a vegan protein powder instead.
If you do take out the protein powder, add a little regular vanilla instead to get the flavor and sweetness back.
Don't make your Protein Berry Crumble too big
If you make berry crumble for a lot of people, make small or individual portions rather than one large crumble. If you try to make a larger portion, the berries will be overcooked before the center of the crumble is done. You want the berries to stay firm and not cook into jam.
Gluten-free crumble
One more thing I should mention is that this recipe is gluten-free. High protein, no added sugar, gluten-free… it's pretty much the perfect recipe!
You can see exactly how I put this tasty gluten-free crumble together in the video in the recipe card below
More healthy high-protein recipes
I am a huge fan of high-protein baked good for both breakfast and dessert. Here are two of my favorite recipes:
I have also collected roundups of my favorite low-carb breakfast ideas for diabetics and easy diabetic desserts that you can check out for more recipe ideas!
When you've tried this High Protein Berry Crumble, please don't forget to let me know how you liked it and rate the recipe in the comments below!
Recipe Card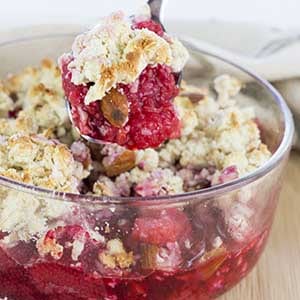 High Protein Berry Crumble
This high protein berry crumble looks and tastes like cake, but it actually has a great mix of protein and carbs, perfect for a healthy breakfast or snack.
Instructions
Preheat oven to 350F (180C).

2. Place berries in a small Pyrex oven dish and sprinkle a little Stevia on top.

Mix

protein powder

, oats and lemon juice with a fork or spoon. It should end up as a fairly dry crumble.

Chop the almonds into small pieces and mix them with the crumble. Spread the crumble on top of the berries.

Bake for 15 min. Then set the oven to broil and bake the crumble for another 1-2 minutes until the top is slightly golden.

6. Take out of the oven and allow to cool a little before serving.
Recipe Notes
You can see exactly how I put this tasty gluten-free crumble together in this short video
HOW TO MAKE PROTEIN BERRY CRUMBLE
Nutrition Info Per Serving
Nutrition Facts
High Protein Berry Crumble
Amount Per Serving
Calories 320
Calories from Fat 77
% Daily Value*
Fat 8.6g13%
Cholesterol 12.5mg4%
Sodium 71.7mg3%
Potassium 375.1mg11%
Carbohydrates 34.8g12%
Protein 29.6g59%
Vitamin A 45IU1%
Vitamin C 60.6mg73%
Calcium 530mg53%
Iron 2.2mg12%
Net carbs 23.2g
* Percent Daily Values are based on a 2000 calorie diet.