With this Cinnamon Swirl Protein Cake, you can have cake for breakfast! It's a tasty, high-protein treat that will make you excited to get out of bed in the morning.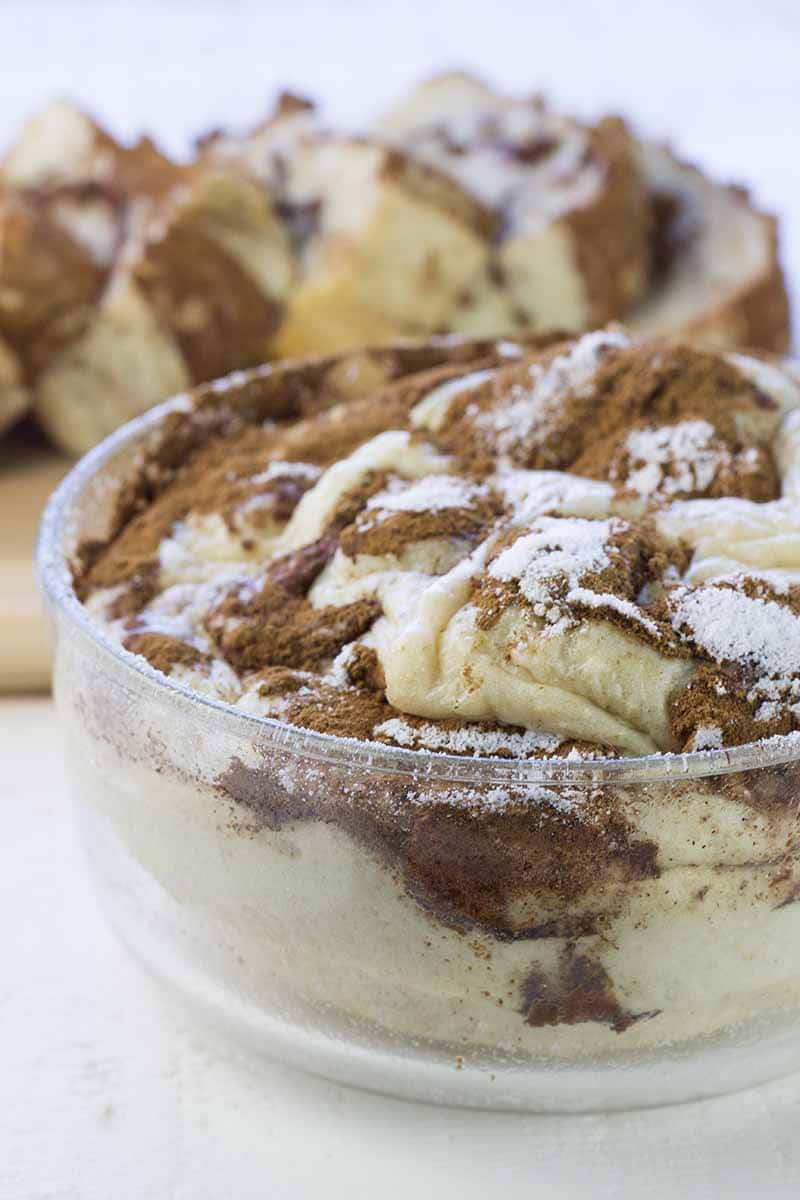 I don't know about you, but I love a breakfast that reminds me of dessert!
There is something so fun about crawling out of bed in the morning and starting my day with a sweet treat. I guess that's why people love to wake up and have a big breakfast of waffles or pancakes drowning in syrup, right?
However, as someone with diabetes, eating sugary pancakes smothered in sugary syrup is not a good breakfast option. In fact, it's not exactly a good breakfast option for anyone (even if it tastes great going down!).
I like to eat breakfasts that are high in protein and have a moderate amount of low-glycemic carbs and healthy fats. That's why I created this nutritious (and very delicious) Cinnamon Swirl Protein Cake. Yes, cake for breakfast!
As you might expect with the name, this recipe has a ton of protein (34 grams), and it also has a moderate amount of carbs (18 grams) and fat (2 grams).
There are only 217 calories in the entire protein cake recipe, so it's a healthy, low-calorie breakfast option.
I love to make Cinnamon Swirl Protein Cake in a small loaf pan because I can slice it up and eat one slice at a time, but you can make it in any oven-safe dish you want. As you can see in the photos, it also bakes great in a small round glass baking dish!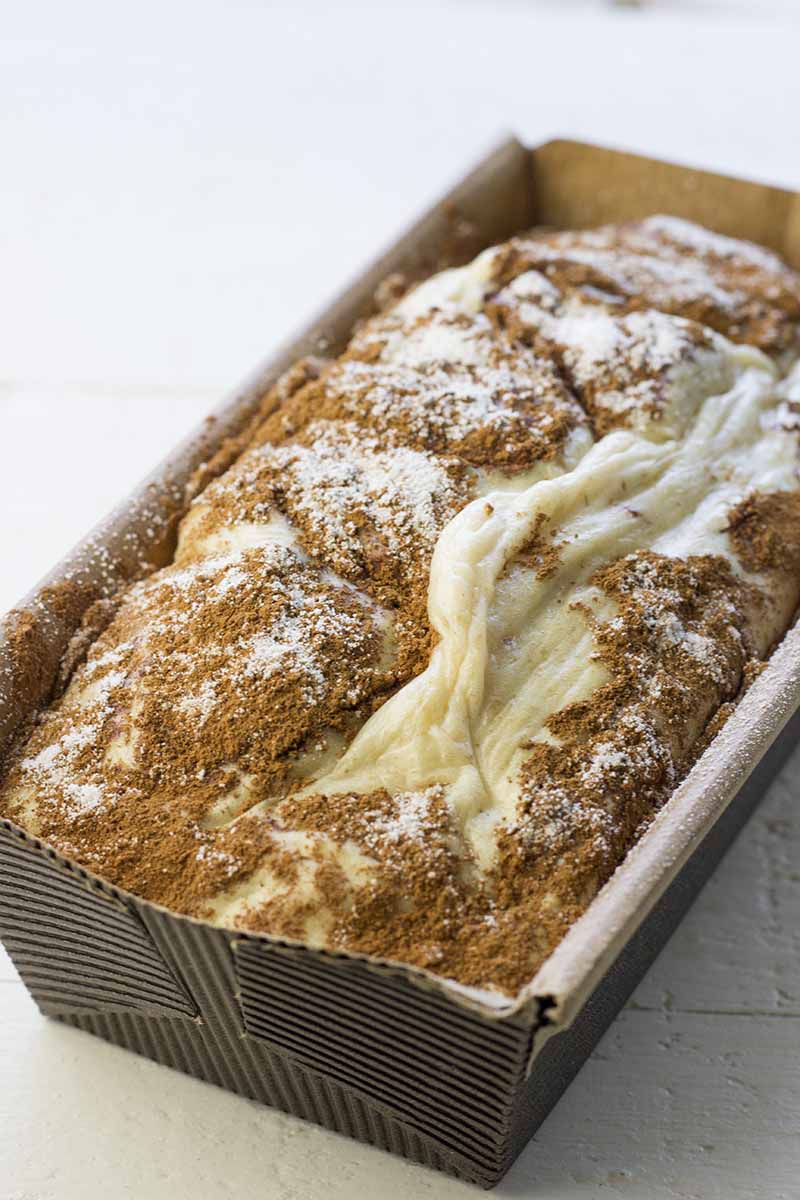 Make this protein cake the night before
One thing I really love about this recipe is it stores so well in the fridge. If you're rushing around most mornings like I am, you probably appreciate a breakfast that you can make the night before and just pop in the microwave the next morning.
This recipe is perfect for that—if you store it in the fridge, you can warm it up in the microwave in only 30 seconds. It tastes good and it's convenient. Talk about a win-win!
Great as a snack or dessert, too
Even though I told you this makes a healthy, low-calorie breakfast, that shouldn't hold you back from eating it as a snack or dessert. With the high protein content (thanks mostly to the vanilla protein powder), it's a great way to increase your protein consumption at any time of the day.
If you want to get a little decadent for dessert, you could spread a thin layer of almond butter on a slice. Yum!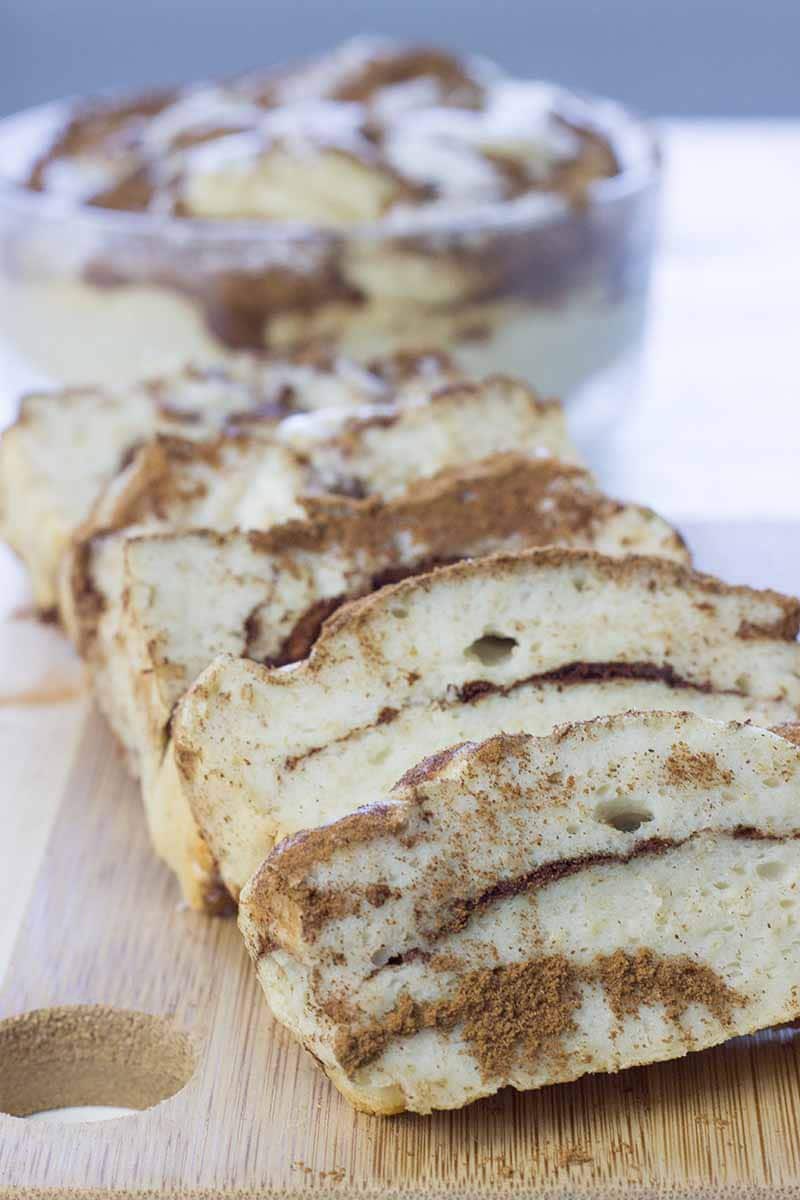 Tip and tricks for making protein cake
Although you might be tempted, don't increase the ingredients and try to make a "giant loaf" for a bunch of meals. If you do that, it doesn't get cooked all the way through… and the last thing you want is a mushy protein cake!
Use the right protein powder. You want a protein powder that is suitable for baking and has a strong vanilla flavor. I use Met-RX Vanilla Protein but other brands should work as well. If you try this recipe and it doesn't come out right, try changing your protein powder.
More high protein recipes
If you want to try more of my protein baking recipes, check out my Protein Pancakes and Protein Berry Crumble. Both recipes are packed with protein (more than 20 grams per serving) and taste AMAZING!
For even more healthy high-protein recipes, take a look at my roundups of the best low-carb breakfast ideas for diabetics and diabetic desserts.
When you've tried this healthy protein powder cake, please don't forget to let me know how you liked it and rate the recipe in the comments below!
Recipe Card
Cinnamon Swirl Protein Cake
Have dessert for breakfast with this delicious Cinnamon Swirl Protein Cake! It's high in protein, easy to make, and stores well in the fridge.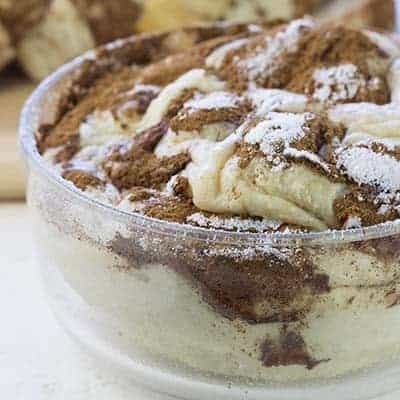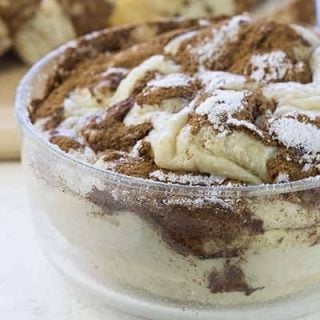 Instructions
Preheat the oven to 325 F (165 C)

Blend oats, egg white, and water until the consistency is smooth (I use a Nutribullet)

Pour the mixture into a bowl and whisk it together with the protein powder and 1 tsp. Stevia (the mixture should be like thick pancake batter).

Pour half of the batter into a small (about 4.5 inches across) nonstick pan and sprinkle with two-thirds of the cinnamon and 1 tsp. Stevia. Pour the remaining batter over and sprinkle with the rest of the cinnamon.

Pull a knife through the batter a few times to slightly mix in the cinnamon and Stevia.

Bake for 25 minutes and let it rest for a few minutes before serving.

If stored in the fridge, reheat for 30 sec in the microwave before serving.
Nutrition Info Per Serving
Nutrition Facts
Cinnamon Swirl Protein Cake
Amount Per Serving
Calories 217
Calories from Fat 17
% Daily Value*
Fat 1.9g3%
Cholesterol 12.5mg4%
Sodium 145.9mg6%
Potassium 247.8mg7%
Carbohydrates 17.9g6%
Protein 31.5g63%
Calcium 511mg51%
Iron 1.2mg7%
Net carbs 13.7g
* Percent Daily Values are based on a 2000 calorie diet.