These protein pancakes have 22 grams of protein per serving and are ready in under 10 minutes. It doesn't get easier or healthier than that! Pancakes are always awesome, and adding protein powder pushes them right into the "greatest thing ever!" category.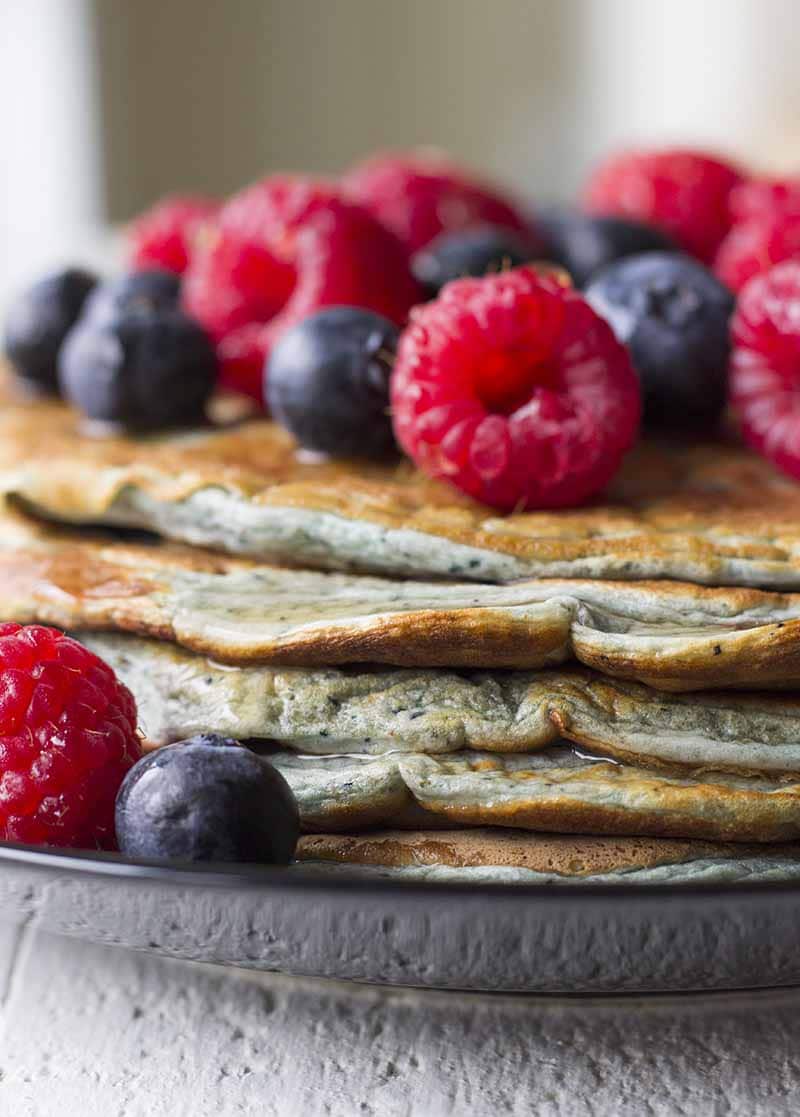 Who doesn't like a healthy pancake in the morning?
These easy protein pancakes aren't just simple to make and super healthy, they are also some of the best-looking pancakes if I may say so myself. They are really moist and fluffy, and the blended blueberries give them a great color.
You can use all kinds of different berries (or even fruits) to add flavor to the pancakes. I usually make them with blueberries or raspberries because I like a little bit of tartness to balance out the sweet pancakes.
How to make protein pancakes
It's incredibly easy and only takes about 10 minutes. You can see how I do it in this quick video or read the instructions below.
The trick to making the perfect protein pancakes is to have the right ingredients, especially protein powder (see below). As long as your protein powder has a good vanilla (or chocolate) taste and can mix with the liquid ingredients, you really can't go wrong.
Cooking with protein powder
There are many different ways to make high-protein pancakes (like our High Protein Cottage Cheese Pancakes) but the easiest way is to use protein powder. I generally prefer to only use raw or minimally processed ingredients, but I will make an exception for whey protein powder. It's just such an easy way to add protein and flavor to recipes that that otherwise would be almost all carbs.
Of course, the egg whites also help a bit, but they don't add enough protein by themselves to make this a balanced and nutritious breakfast or snack.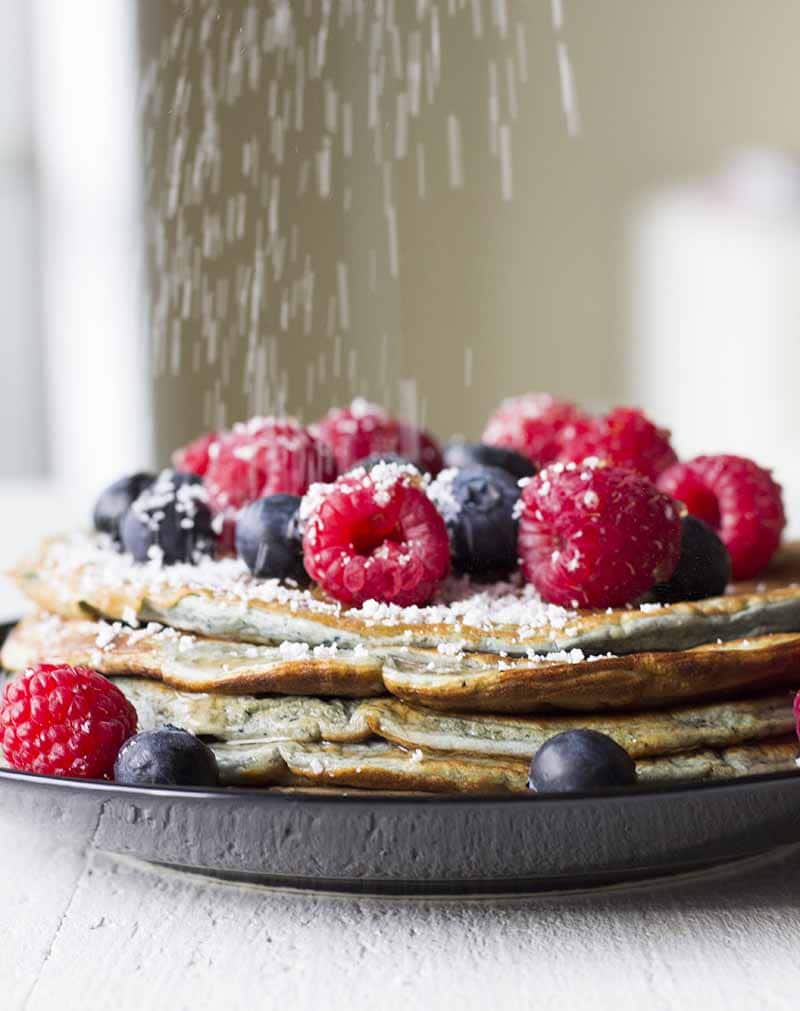 This recipe calls for vanilla protein powder because the vanilla adds sweetness and flavor to the pancakes, and tastes great with the berries. Because protein powder comes in so many flavors, you can experiment like crazy with protein powder pancakes. An obvious idea to try is chocolate protein powder pancakes, which can taste AMAZING as well.
Sweet but without added sugar!
Let's be real; pancakes aren't really pancakes without syrup on top, right?
A little bit of sweet drizzle makes a big difference, and this sugar-free pancake syrup from Walden Farms does the trick! It's the product I know that comes closest to real syrup (my hubby can't tell the difference) without having any sugar or calories.
I often drizzle the syrup on top of my pancakes and then add a sprinkle of Stevia In The Raw to give even more sweetness, but I also like my pancakes very sweet. Both syrup and Stevia are optional extras — the pancakes taste great with just some fresh (or blended) berries on top.
How many calories are there in a protein pancake?
Each serving (2 pancakes) has:
182 calories
22 g protein
16 g carbs
2 g fat
I think these are perfect macronutrients for a healthy breakfast or snack, but if you prefer more low-carb pancakes, you can reduce the oats by up to a third. Any more than that and the pancake batter becomes too thin to cook.
When should I eat protein pancakes?
The correct answer is: Whenever you like!
You can eat them for breakfast, as a pre-workout snack, or before bedtime to fill up your energy reserves for the night. Because they are mainly protein and slowly digested carbs, they provide energy to your muscles for several hours after you eat them without spiking your blood sugar.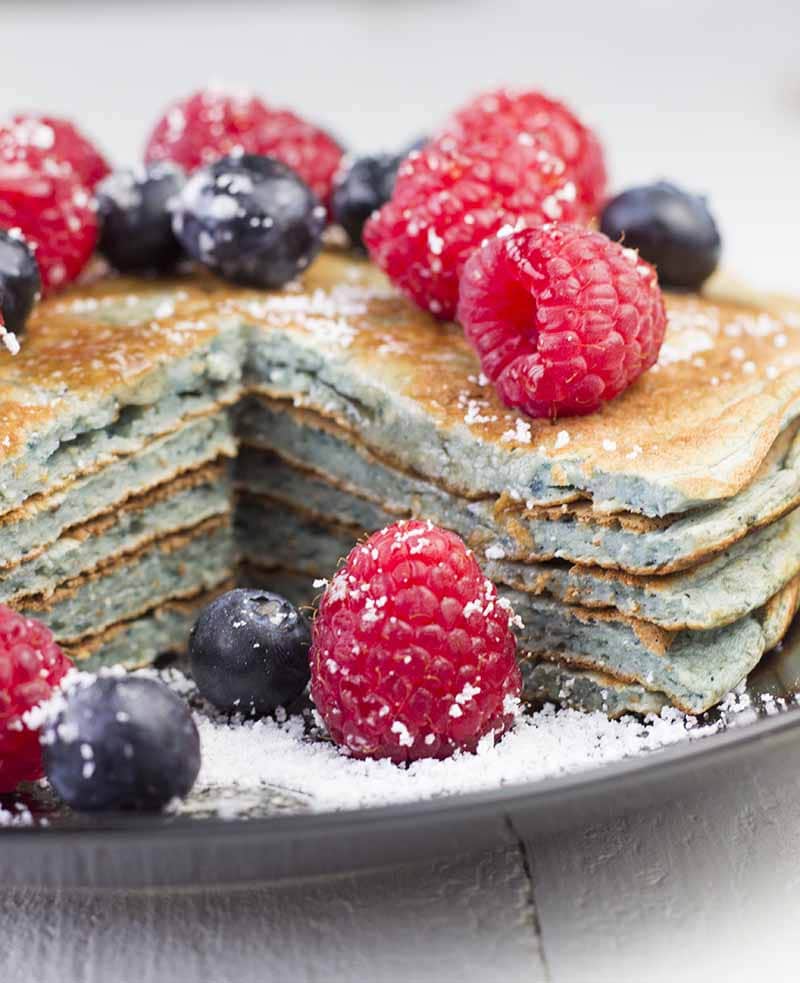 Can you store protein pancakes overnight?
Yes, absolutely! You can make a large batch and store them in the fridge for up to 24 hours before reheating them in the microwave. Make sure to let them cool before putting them in the fridge, or they will get soggy from condensation.
I think this is the best protein pancake recipe out there, but I can also highly recommend these Pumpkin Pancakes. They use the same basic ingredients (oats, protein powder, egg whites) but add pumpkin puree and cinnamon for very comforting and delicious flavor. They are my go-to "winter pancakes".
I also sometimes make these keto chocolate pancakes. They only have 5 grams of carbs per serving so they are perfect for very low-carb or ketogenic diets.
UPDATE: I just put together a roundup of my favorite Diabetes-Friendly Pancake Recipes. Check it out!
When you've tried this easy protein pancake recipe, please don't forget to let me know how you liked it and rate the recipe in the comments below!
Recipe Card
Protein Pancakes
These protein pancakes have 22 grams of protein per serving and are ready in under 10 minutes. It doesn't get easier or healthier than that!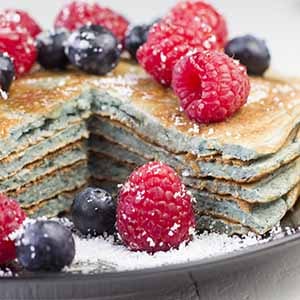 Instructions
Put a pan on the stove (medium heat) and coat it with a little cooking spray.

When the pan is hot, pour in the pancake batter until it covers the pan in a thin layer. The batter is a little thicker than regular pancake batter, so make sure to spread it evenly.

Cook the pancakes for about 1 minute on each side until they are fully cooked.

Drizzle a little sugar-free syrup on top and serve with fresh berries.
Nutrition Info Per Serving
Nutrition Facts
Protein Pancakes
Amount Per Serving
Calories 182
Calories from Fat 16
% Daily Value*
Fat 1.8g3%
Cholesterol 5mg2%
Sodium 157mg7%
Potassium 180mg5%
Carbohydrates 16.6g6%
Protein 22.2g44%
Vitamin A 10IU0%
Vitamin C 1.9mg2%
Calcium 176mg18%
Iron 0.9mg5%
Net carbs 14.3g
* Percent Daily Values are based on a 2000 calorie diet.