Sometimes I like to create new recipes from scratch based on what I have in the fridge, or I try to recreate dishes I remember from my childhood. I call this my test kitchen 😀 . As you would expect, the results aren't always great, but sometimes I come up with a real winner, like these vegetarian spinach rolls. They are savory, filling, and just a little bit spicy!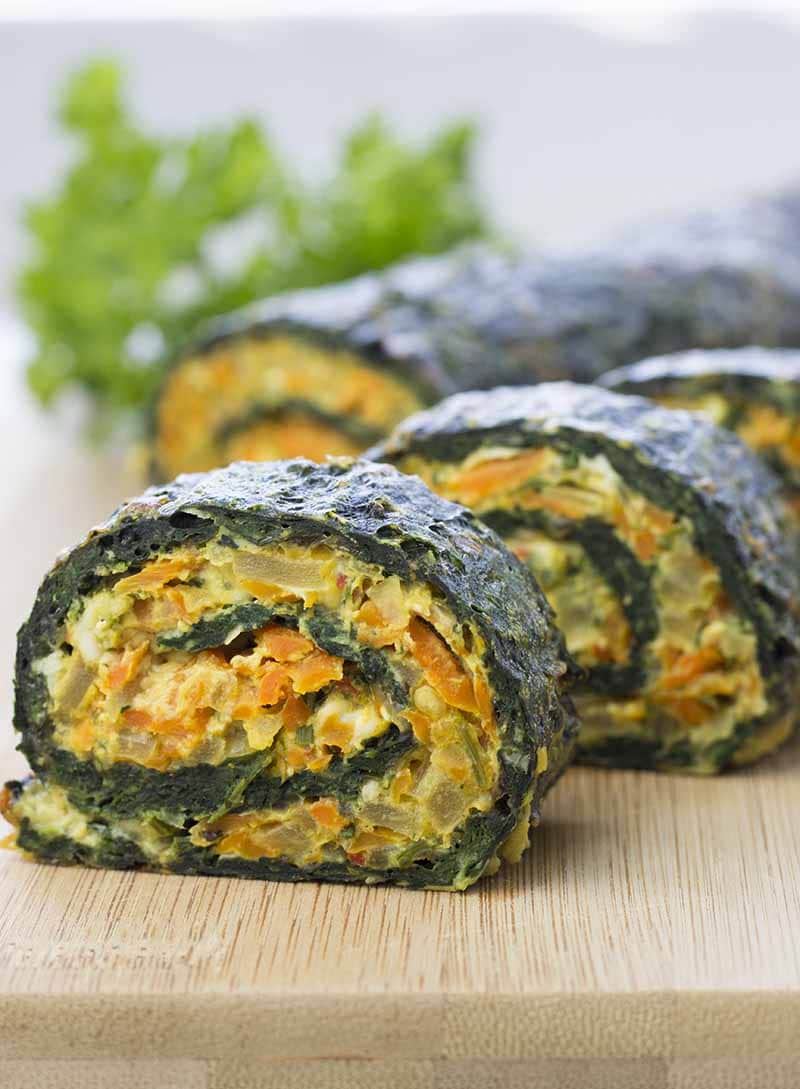 Easy rolls!
Whenever I see a recipe called "something-roll", I always assume that it will be complicated and time-consuming to make. I mean, how often do you make any type of roll on a Thursday evening after getting home from work?
Well, these spinach rolls are the exception! They look fancy, but you can make enough to feed your family for several days in less than an hour. And of that hour, almost 40 minutes is time spent in the oven, so you can do something else.
I can spend an hour making spinach rolls on a Sunday if it means that my Monday and Tuesday dinners are taken care off as well.
How to make vegetarian spinach rolls 
It's a really easy process and you don't need a lot of equipment. You can see the main steps here, or jump to the end of the post to read the detailed recipe.
Step 1
Mix spinach, eggs, mozzarella, garlic, salt, and pepper and spread the mixture evenly on a sheet of parchment paper. Bake for 15 minutes at 400° F (200° C).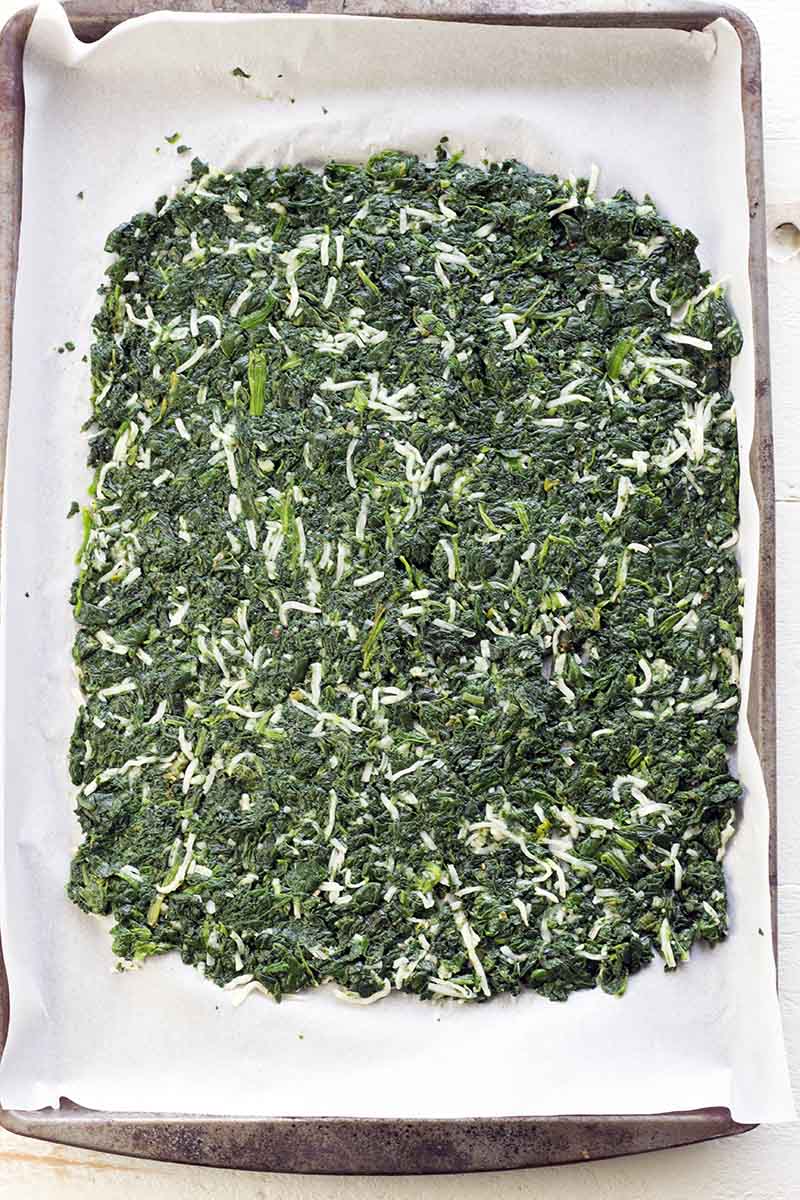 Step 2
Fry the rest of the veggies in a pan.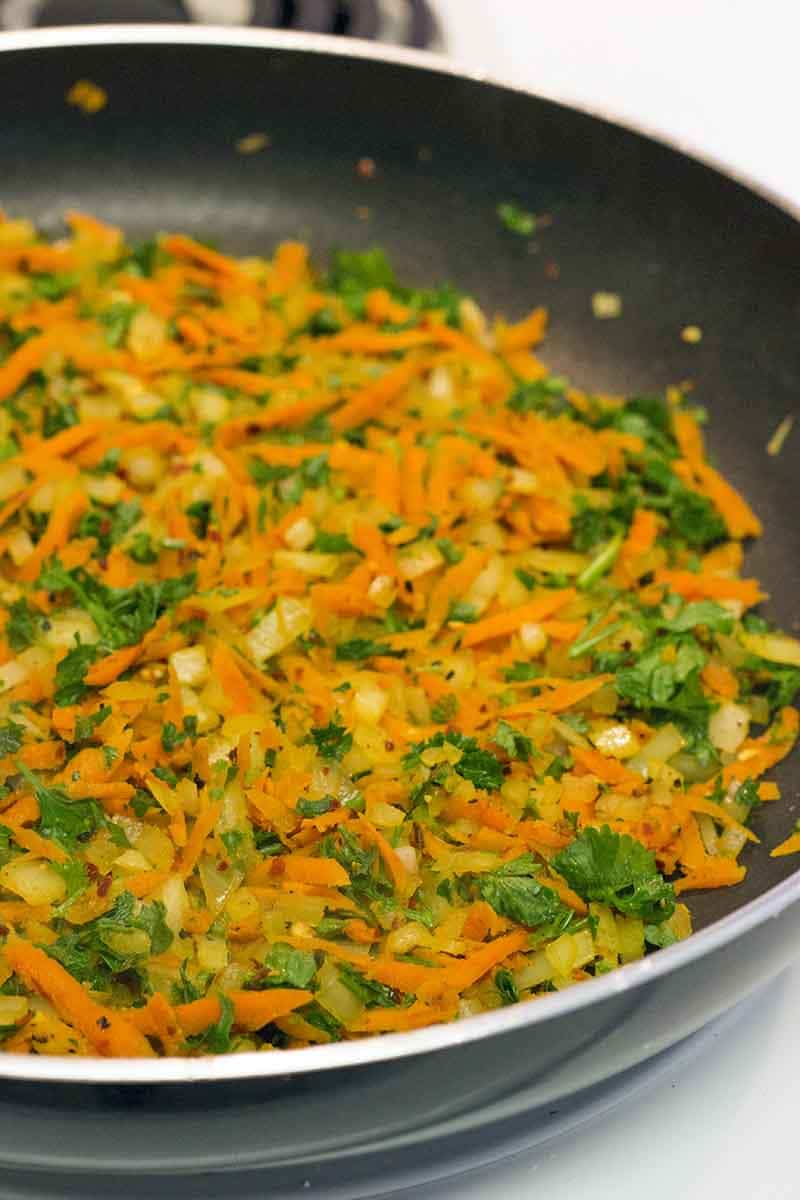 Step 3
After about 3 minutes, mix in the cottage cheese and spices.
Take the pan off the heat and quickly mix in an egg (do it quickly so it doesn't turn into a lump of scrambled egg). Spread the filling over the baked spinach mixture and roll it up.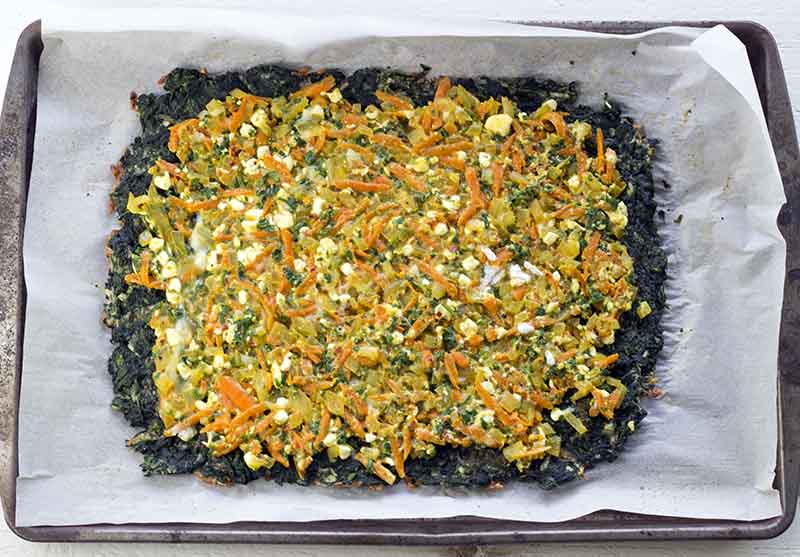 Step 4
Bake the spinach roll in the oven at 400° F (200° C) for 25 minutes. The filling is REALLY hot when it comes out of the oven, so let it rest for 5-10 minutes before serving.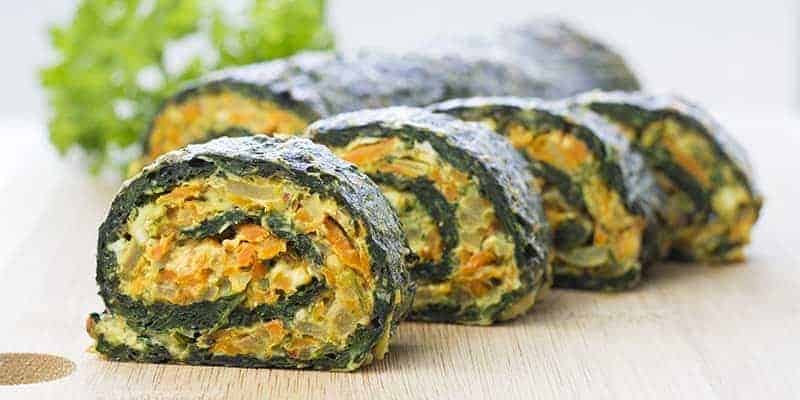 Healthy spinach rolls
The best thing about this recipe (besides how great it tastes and how easy it is to make – so really the third best thing, I guess) is how high it is in protein. You can easily use the spinach rolls as the main source of protein in your meal. I would suggest just adding a salad and perhaps a light sour cream dressing.
These spinach rolls are perfect for vegetarians (who don't mind eggs or cheese), people with gluten intolerance or anyone following a low carb diet.
They're also great if you are simply looking for a tasty and healthy meal!
More healthy vegetarian recipes
We have a lot of great healthy vegetarian recipes on Diabetes Strong. Here are some of them:
When you've tried these healthy vegetarian spinach rolls, please don't forget to let me know how you liked them and rate the recipe in the comments below!
You can also sign up for my diabetes newsletter (and get a sign-up bonus) in the form below the recipe description. I send out a weekly newsletter with the latest posts and recipes from Diabetes Strong.
Recipe Card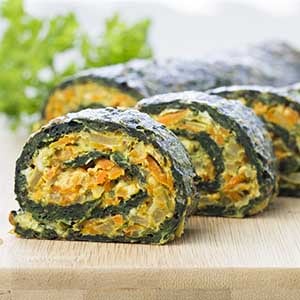 Spinach Rolls
This is my favorite vegetarian recipe! It's easy, savory, and filling. Super yummy!
Ingredients
16

oz.

frozen spinach leaves

3

eggs

2½

oz.

onion

2

oz.

carrot

1

oz.

low-fat mozzarella cheese

4

oz.

fat-free cottage cheese

¾

cup

parsley

1

cloves

garlic

1

tsp.

curry powder

¼

tsp.

chili flakes

1

tsp.

salt

1

tsp.

pepper

Cooking spray
Instructions
Preheat oven to 400° F (200° C).

Thaw the spinach and squeeze out the water (you can use a strainer). To speed up the thawing process, you can microwave the spinach for a few minutes.

Mix spinach, 2 eggs, mozzarella, garlic, half the salt, and pepper in a mixing bowl.

Place parchment paper on a baking sheet and spray with cooking spray. Move the spinach mixture to the sheet and press it flat, about 10x12 inches in size and roughly ½ an inch thick.

Bake for 15 minutes. When done, set aside to cool on a rack. It will get the texture/look of a really thick seaweed mat (if you ever have sushi, you know what I'm talking about). Don't turn off the oven! You'll need it again in a bit.

Finely chop onion and parsley. Grate the carrots.

Fry the onions for about a minute in a skillet with a little cooking spray. Add carrots and parsley to the pan and let it simmer for about 2 min. Add cottage cheese, curry, chili, the other half of the salt, and pepper and mix briefly.

Take the skillet off the heat and add an egg. Mix it all together and spread the filling over the now cool spinach mat. Don't spread it all the way to the corners, or it will spill out when you roll it up.

Carefully roll up the spinach mat and filling. Bake for 25 minutes.

Take out the roll and let it cool for 5-10 min before cutting it into slices and serving.
Nutrition Info Per Serving
Nutrition Facts
Spinach Rolls
Amount Per Serving
Calories 310
Calories from Fat 94
% Daily Value*
Fat 10.4g16%
Cholesterol 326.7mg109%
Sodium 695mg29%
Potassium 2489.3mg71%
Carbohydrates 19.6g7%
Protein 27.3g55%
Vitamin A 8770IU175%
Vitamin C 46.1mg56%
Calcium 419mg42%
Iron 5mg28%
Net carbs 14.5g
* Percent Daily Values are based on a 2000 calorie diet.