These 10 low-carb diabetic salad recipes are packed full of flavor and easy to make. The easy leafy green dishes work well as a side dish or a main meal by themselves.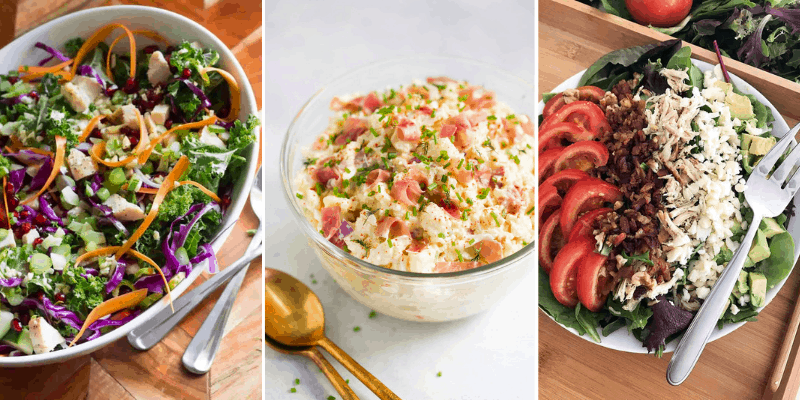 What is a "diabetic salad"?
You would be forgiven for thinking that all salads are healthy but in fact, many store-bought salads and salad dressings are full of hidden carbs, sugars, and other ingredients that you would probably prefer to be without.
A diabetic salad is one that is low (or a least moderate) in carbs and won't cause a spike in your blood sugar. Many of the recipes here are also high in protein which makes them very filling as a main meal. Healthy fats from avocados, nuts or a low-carb ranch dressing also make up part of a great diabetic salad recipe.
Tips for making diabetic salad recipes
Making a great tasting salad is all about the right combination of ingredients. A good salad is made up of four components: the greens, the colorful vegetables, the toppings, and the dressing.
Remember this the next time you are lost in the fruit and vegetable aisle and don't know what to pick. Here are some guidelines for low-carb salad ingredients that you can use:
Greens: Low carb greens make the base for any salad. Use leaves like lettuce for a lighter taste or go for more nutritionally dense greens like rocket, romaine, arugula, kale leaves, etc. Most leafy greens are low in carbs so go for what you prefer in your low carb salad.
Vegetables: Every salad needs some color and low carb vegetables bring that as well as taste. Low-carb vegetables that always work well in salads are cucumbers, bell peppers, mushrooms, onions, grilled asparagus, broccoli, onions, and radishes. Although avocado and tomato are technically fruit, they also work very well in a low carb salad.
Toppings: High protein toppings are great for a low carb salad. They help fill you up and also pack in some delicious flavors. You can add bacon crisps, grilled chicken, boiled eggs, or mozzarella pieces to up the protein content and add some flavor to your salad. You can also add in some pumpkin or sunflower seeds for extra protein but only add 1 tbsp. of seeds per 2 – 3 cups of salad, as seeds are quite high in calories.
The toppings are generally where the most hidden carbs lie in salads so steer clear of high carb salad ingredients like croutons and fried toppings.
Low-carb Dressing: Many store-bought dressings are high in carbs and are definitely not suited to a low-carb diet. The best way to get a delicious tasting low carb salad dressing that's healthy too is to make it yourself. This keto ranch dressing adds a boost of flavor to any salad!
Low carb salads are definitely not boring!
Find Mediterranean, American, and Asian inspired salad recipes here amongst many others! Whatever dinner or meal you are preparing, consider adding one of these delicious diabetic salad recipes to the table.
10 Diabetic Salad Recipes
More low-carb recipe roundups
I love making collections of the best recipes I try. Here are a few that I think you will love:
When you have tried any of the recipes, please leave a comment below and let me know how you liked them.
Enjoy!