Chopped Chicken Salad utilizes seasonal fruits and vegetables and easy baked chicken to create a hearty, colorful, protein-packed salad!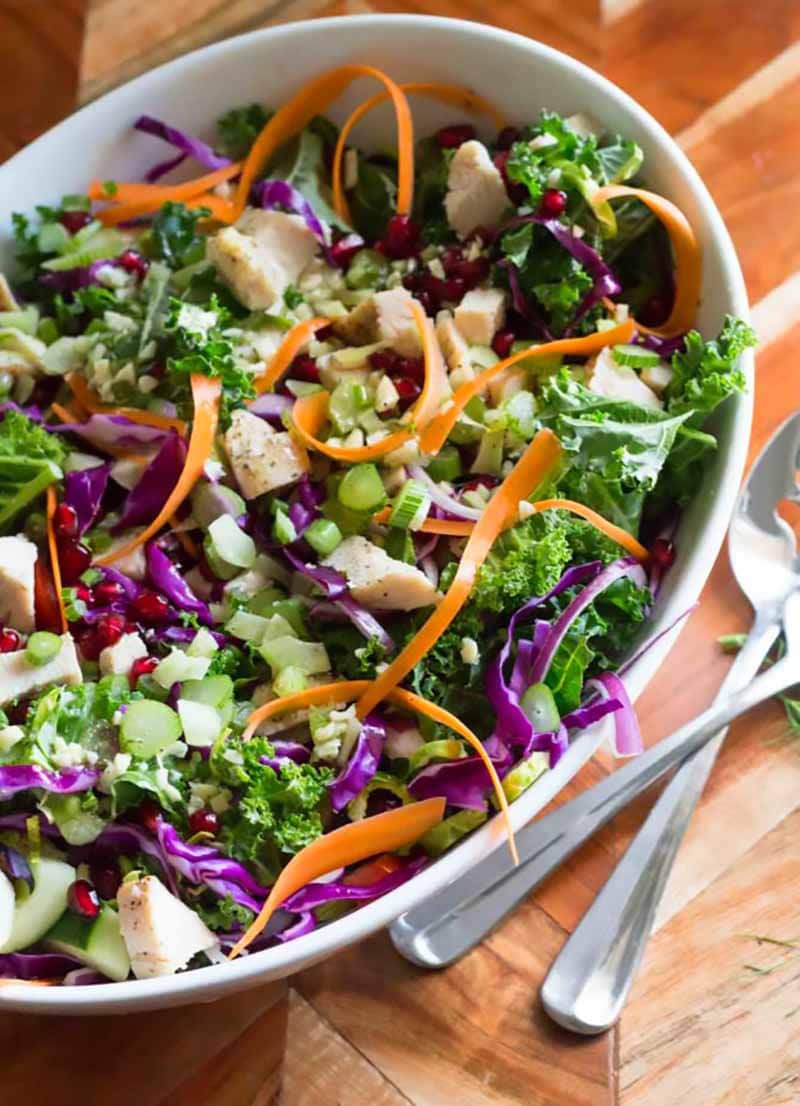 When I was a kid, the most exciting thing about the salad bar at a restaurant was every single colorful topping, and not one of them was green. The watered down lettuce was only there as an excuse to be able to pile the toppings high, and I mean HIGH. Those large lettuce leaves were a temporary annoyance until I reached the next ranch-coated crouton.
Since then, I have discovered a love for those bright greens, and often incorporate spinach and kale into my salads, retiring the iceberg from the sad restaurant salad bar. However, if we are being honest with ourselves, we still all love the toppings most.
Being the adults that we are, let's break the rules today and dive into a lettuce-less salad and inhale those toppings!
Chopped Chicken Salad incorporates our favorite vegetables and fruits in a chopped, easy-to-eat fashion, with a light coating of a quick garlic citrus vinaigrette and easy baked seasoned chicken to pack in the protein and flavor!
TIP: if you want a heavier dressing, try a keto ranch dressing instead of the vinaigrette.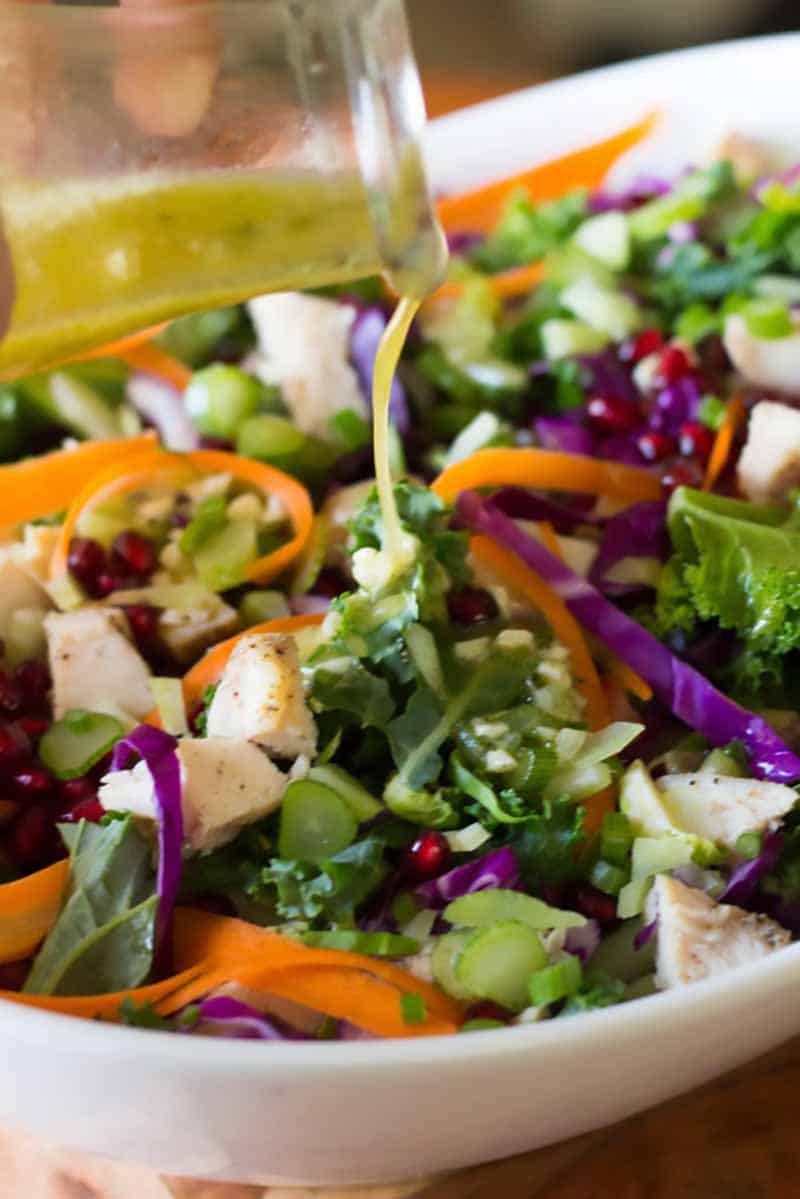 Other than some chopping and baking, let's keep this easy, because that's what a good salad is – quick, easy and delicious. Your seasoned chicken thighs will bake in the oven while all the chopping happens. By using those rainbow vegetables and fruit that are currently in season, you are bringing incredible flavor to your salad as well as keeping things cost efficient. This would be a great meal to incorporate your farmer's market finds into!
That's the great thing about chopped salads – they can be easily altered to utilize the ingredients you already have on hand. Don't be intimidated by the ingredient list, because you probably have the majority of the ingredients on hand already!
Get creative and try to enjoy the cooking process! Kale and cabbage hold up well to all the crunchy toppings and soak up the delicious garlic citrus vinaigrette without getting all soggy.
With all that crunch, this salad is perfect for meal prep, and will keep you crunching all week long!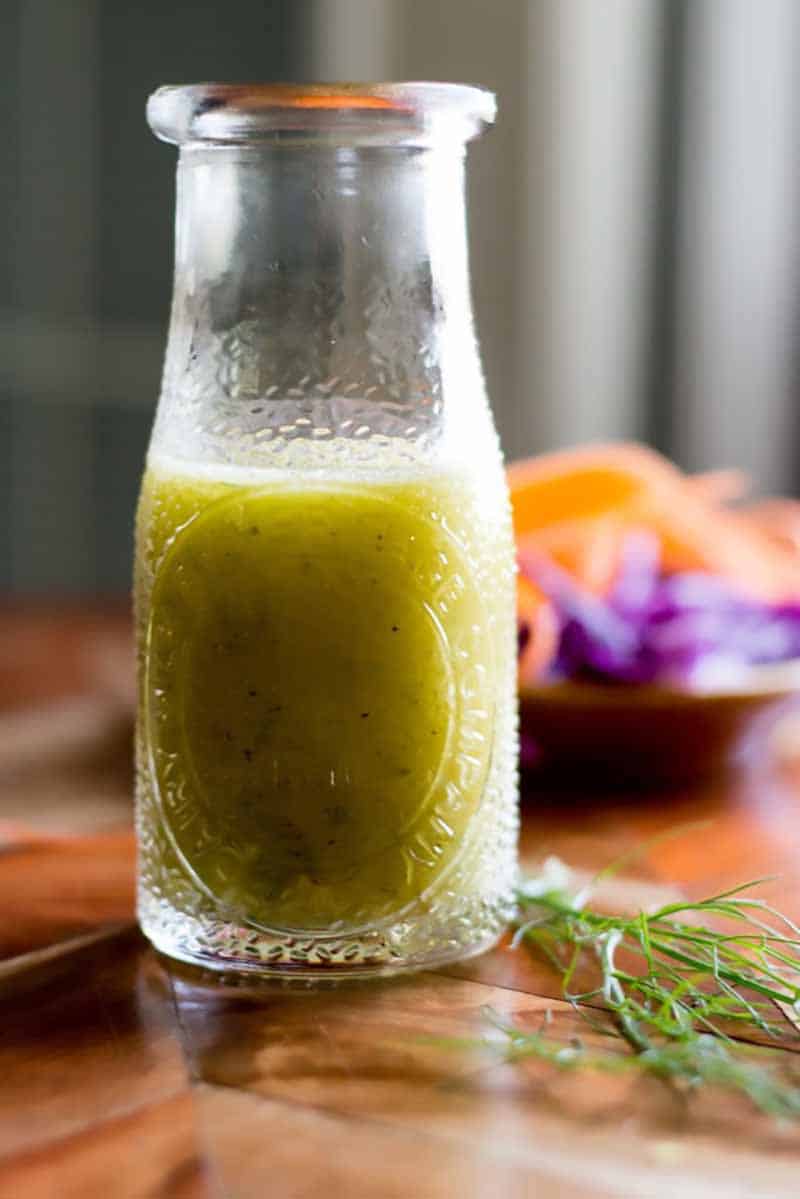 I also sometimes make this salad as a side instead of the main meal. Instead of adding baked chicken to the salad, I'll just make the veggies and vinaigrette, and serve that fresh, crunchy salad with my stuffed chicken breast or smothered creamy chicken skillet. Yummy!
Recipe Card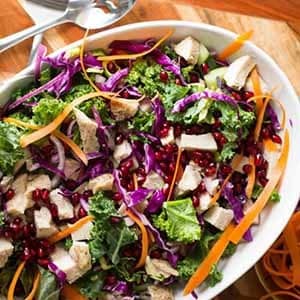 Chopped Chicken Salad
Chopped Chicken Salad utilizes seasonal fruits and vegetables and easy baked chicken to create a hearty, colorful, protein-packed salad!
Ingredients
Baked chicken
2

lbs.

boneless skinless chicken thighs

Olive oil spray

½

tsp.

pepper

½

tsp.

garlic powder

½

tsp.

onion powder

½

tsp.

salt
Salad
3

cups

kale, chopped in bite-sized pieces

1

cup

brussel sprouts, chopped into bite-sized slices

1

cup

purple cabbage, sliced

1

carrot, cut in ribbons with a mandolin (or sliced thinly)

1

red onion, sliced thinly

1

small stalk of fennel, sliced thinly (divided)*

¼

cup

pomegranate seeds

1

cucumber, chopped in bite-sized pieces

1

tomato, diced

¼

cup

crumbled feta (optional)
Garlic Citrus Vinaigrette
¼

cup

extra virgin olive oil

1 ½

lemons, juiced (approximately 4 tbsp. juice)

½

tsp.

salt

½

tsp.

pepper

1

garlic cloves, minced

1

tsp.

minced fennel (reserved from above)
Instructions
Preheat oven to 375 F (190 C). Spray a small pan with olive oil spray and spread seasonings on both sides of chicken thighs. Place in pan and bake for 30 minutes or until the thickest part of the thigh reads 165 degrees. Allow to cool.

Meanwhile, prepare the salad ingredients according to the ingredient list, and toss them in a large bowl. Place in the refrigerator until needed.

Combine all vinaigrette ingredients in a mason jar and shake vigorously. Place in refrigerator until needed.

Once the chicken has cooled, chop into bite-sized pieces and place over salad. Drizzle on vinaigrette and toss. Serve immediately, or place in small containers for meal prep.
Recipe Notes
*Slice the entire, single, stalk of fennel and reserve a small amount to mince for vinaigrette. If you cannot find fennel (may be called anise) in your local grocery store, it can be omitted, or substituted with celery.
Nutrition Info Per Serving
Nutrition Facts
Chopped Chicken Salad
Amount Per Serving
Calories 329
Calories from Fat 149
% Daily Value*
Fat 16.6g26%
Cholesterol 105mg35%
Sodium 415.3mg17%
Potassium 675.8mg19%
Carbohydrates 14.7g5%
Protein 30.6g61%
Vitamin A 6020IU120%
Vitamin C 101.3mg123%
Calcium 117mg12%
Iron 1.8mg10%
Net carbs 10.9g
* Percent Daily Values are based on a 2000 calorie diet.