This healthy Vegetable Noodle Stir-Fry is easy and quick to make and works brilliantly as both a side dish and a main meal.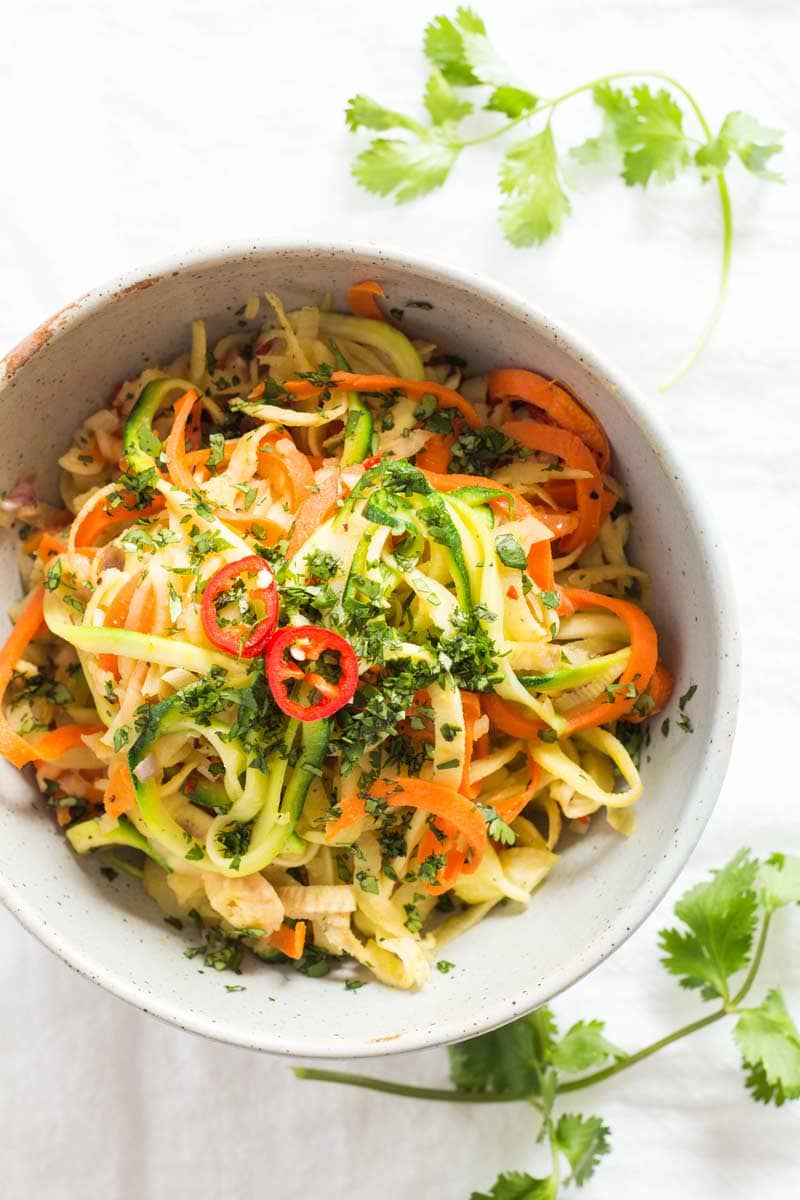 I often feel like choosing what carbs to include in my meals is much more difficult than choosing the protein. I know a ton of great ways to cook chicken, fish or lean beef, but when it comes to the carbs, I often fall back on just a few familiar recipes that I know are healthy and easy to cook. That's why I love this Vegetable Noodle Stir-Fry so much!
I know a lot of you are probably thinking, "What? There are so many great vegetable recipes out there to choose from!", but as a diabetic who is also prepping for a fitness competition, I need something that is both fairly low in total carbs, low in sugar, and filling enough that I don't feel hungry all the time. Oh, and, of course, it needs to taste amazing!
Vegetable Noodle Stir-Fry to the rescue!
I came up with this filling but light Vegetable Noodle Stir-Fry for exactly that reason. Regular pasta is much too high in carbs for me right now (and lies too heavy in the stomach), but spiralized vegetables are absolutely perfect for a dinner or lunch that will keep you satisfied and full for hours.
I eat them as a side dish with my chicken or fish and they are light enough that I can have them as my pre-workout meal if I want to and still not feel like I am working out with a bowling ball in my stomach.

How to make vegetable noodle stir-fry
It's a surprisingly easy process, especially if you have the right tools. But even if you just have a sharp knife, you should still make vegetable noodles! It just adds 5-10 minutes to the prep time for the recipe.
Step 1 – Choose your vegetables
You can use pretty much any vegetable that is firm enough to be spiralized. I used sweet potato, carrot, and zucchini for this stir-fry but you can really be creative if you want. You just need to know roughly for how long each vegetable has to cook to be tender before you start stir-frying. Firm vegetables like carrots typically need to cook for longer than more watery vegetables like zucchini. If in doubt, Google before you start 😀
Step 2 – Spiralize the vegetables
The easiest way to do this is with a spiralizer. The one I use is $27.99 on Amazon but you can get cheaper ones that work perfectly well. If you don't have a spiralizer, use a mandolin slicer to create thin vegetable ribbons or just use a sharp knife. The noodles don't have to be perfectly cut to taste great.
I usually spiralize a lot of vegetables at once (this recipe is for 4 servings) but you have to store them in an airtight container in the fridge if you don't eat them on the same day that you prep them. Even then, the sweet potato doesn't stay fresh as long as the other noodles, so I never let them sit in the fridge for more than one night.
Step 3 – Choose seasoning
The seasoning I use in this recipe is what the Italians call "Aglio, Olio e Peperoncino" (garlic, oil and chili peppers) and it gives any noodles, wheat or vegetable, the most amazing flavor. I actually felt it tasted even better on vegetable noodles than on regular wheat pasta, because the vegetables themselves are so much more flavorful than pasta. I'm sure you will enjoy every bite of it. It is a symphony of tastes and textures and leaves that amazing heat on the tongue that any chili lover will appreciate.
If you are very calorie conscious, you can leave out the olive oil, but I really don't see the need to unless you are eating a fatty protein with your Vegetable Noodle Stir-Fry. A small amount of healthy fat is good for you and a small amount is all you need to make this dish taste fantastic!
Step 4 – Start stir-frying!
This is the fun part! You can read the detailed instructions in the recipe description below, but the short version is that you simply throw everything except the zucchini in a pan with boiling vegetable broth. After 2 minutes, add the zucchini and keep stir-frying for 1-2 more minutes until all the vegetables are tender.
That's it! How easy is that? Now you just season with salt and pepper to taste and you are ready to eat.
Is this a side dish or a main meal?
That's really up to you. I typically eat my Vegetable Noodle Stir-Fry as a side dish, but it's definitely filling enough to be a stand-alone meal as well.
I had these noodles with our Stuffed Chicken Breast a few days ago, and it was even better than the baked root vegetables I usually make with the chicken. Give it a try – I think you will love it!
More healthy vegetable recipes
We have a lot more healthy vegetable recipes here on Diabetes Strong. Here are some of my favorites:
When you've tried this Vegetable Noodle Stir-Fry, please don't forget to let me know how you liked it and rate the recipe in the comments below!
You can also sign up for my diabetes newsletter (and get a sign-up bonus) in the form below the recipe description. I send out a weekly newsletter with the latest posts and recipes from Diabetes Strong.
Recipe Card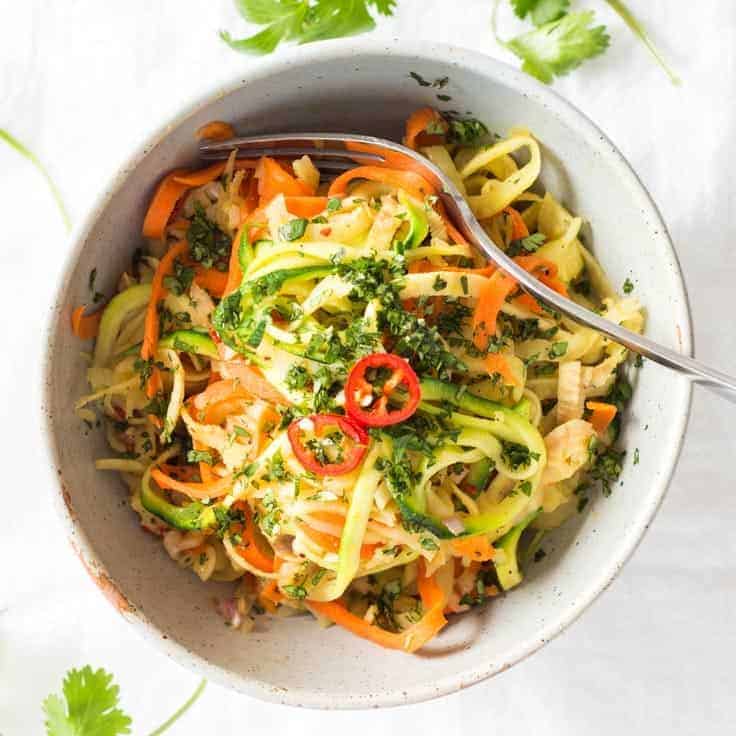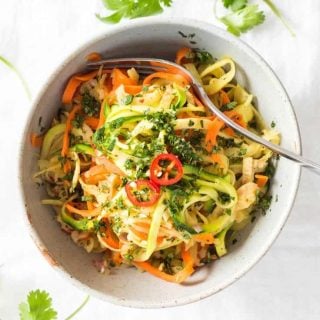 Vegetable Noodle Stir-Fry
This healthy Vegetable Noodle Stir-Fry is easy and quick to make and works brilliantly as both a side dish and a main meal.
Ingredients
1

lbs.

white sweet potato

8

oz.

carrots

8

oz.

zucchini

1

shallot

2

large garlic cloves

1

red chili

2

tbsp.

vegetable broth

1

tbsp.

olive oil

(optional)

Salt

Pepper
Instructions
Wash and spiralize zucchinis.

Peel and finely chop shallot and garlic.

Wash and finely chop chili.

Heat a large non-stick pan over medium-high heat.

Add vegetable broth to the pan. When it starts to boil, add sweet potato, carrot, shallot, garlic, and chili and move around quickly but carefully with tongs.

After about 2 minutes, add zucchini and continue stir-frying for another minute or two until the sweet potato is cooked through.

Remove from heat and pour into a large bowl.

Season with salt and pepper to taste and drizzle with olive oil if desired. Stir well and serve hot.
Nutrition Info Per Serving
Nutrition Facts
Vegetable Noodle Stir-Fry
Amount Per Serving
Calories 169
Calories from Fat 33
% Daily Value*
Fat 3.7g6%
Sodium 112mg5%
Potassium 980mg28%
Carbohydrates 31.2g10%
Protein 3.6g7%
Vitamin A 32150IU643%
Net carbs 25.4g
* Percent Daily Values are based on a 2000 calorie diet.