There are many dishes out there that, although quite tasty, are laden with not-so-healthy ingredients. The good news is that it's often incredibly easy to make these recipes healthy with just a few simple swaps. This Healthy Curry Chicken Salad With Apples is one of those recipes.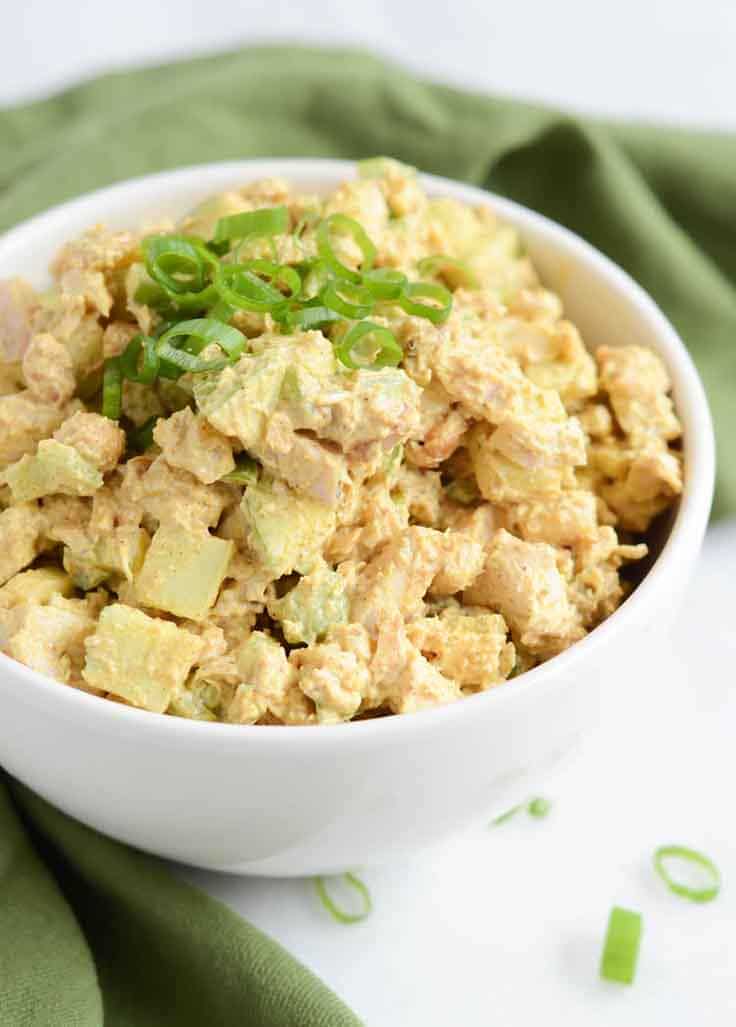 Typically, curried chicken salad is dressed in a heavy slathering of mayonnaise, or a combination of sour cream and mayonnaise, much like a classic tuna salad (or any other type of chicken salad) would be. By swapping in plain Greek yogurt and a touch of tahini for the dressing, I lighten up this recipe significantly and give it even more protein.
Chicken breast, the primary ingredient in this chicken salad, is a nutritional powerhouse. It's almost pure protein with very little fat. This is why it's the basis of most fitness diets. You can combine chicken breast with an almost endless variety of other ingredients and end up with a balanced and nutritional meal.
This Healthy Curry Chicken Salad with Apples is also loaded with other healthy ingredients, such as celery (a great source of folate, potassium, and dietary fiber), apple (also high in fiber as well as antioxidants) and cashews (high in Vitamins E & K, zinc and magnesium.)

Easy & Healthy Curry Chicken Salad With Apples
Best of all, this recipe comes together in no time at all. You will need grilled chicken breasts, which you can either cook right before putting together the salad or a day or two before (you can use our method for cooking the perfect chicken breast), but there is no other cooking involved. Simply dice up all of the salad ingredients, place them in a big bowl together with the dressing ingredients, toss to coat, and you'll have a delicious, nutritious salad on your hands in less than 20 minutes.
The flavors of this Healthy Curried Chicken Salad with Apples complement each other perfectly. The spice from the curry powder is balanced perfectly with the sweetness of the apple and the crunch of the celery and cashew nuts, while the chicken adds a savory component that keeps you full and satisfied.
This is the perfect quick and easy meal to whip up and bring to work for lunch, pack for a picnic or, if you want to get really fancy, serve as a light meal in a scooped out half of a papaya.  It's hearty, portable, healthy and filling. It doesn't get much better than that!
Recipe Card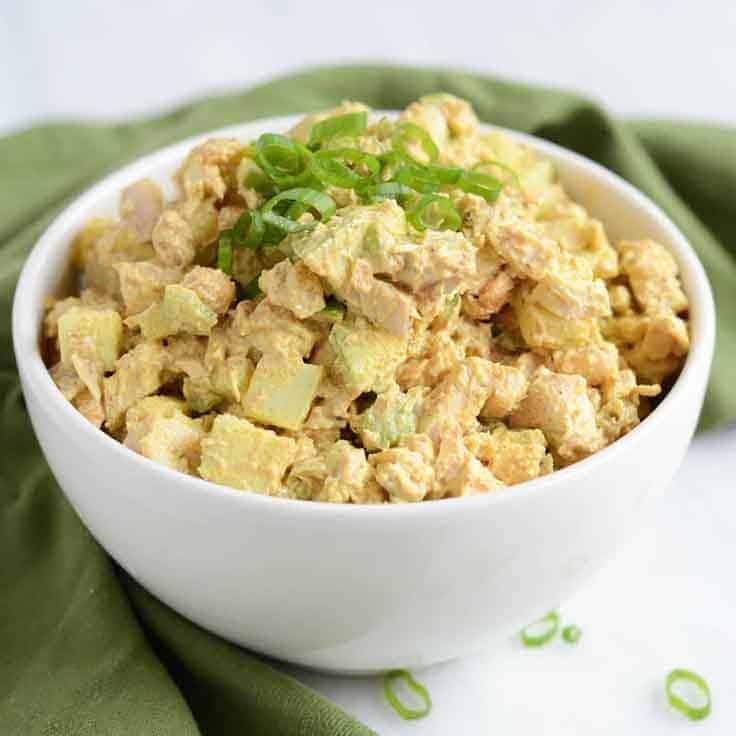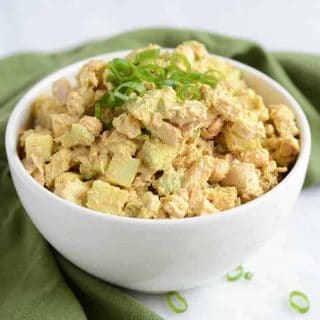 Healthy Curried Chicken Salad With Apples
This Healthy Curry Chicken Salad with Apples is a healthier (and tastier) low-fat version of the classic chicken salad.
Ingredients
1

lbs.

(450 g) cooked chicken breast,

diced

1

Granny Smith apple,

diced

2

celery stalks,

diced

2

green onions,

diced

½

cup

(70 g) cashews,

chopped

1

cup

(280 g) non-fat plain Greek yogurt

1

tbsp.

tahini

4

tsp.

curry powder

1

tsp.

ground cinnamon
Instructions
Combine yogurt,

tahini

, curry powder and cinnamon in a large mixing bowl

Add chicken, apple, celery, green onions and cashews. Stir to combine

This salad can be served on its own, as a sandwich, or in a scooped out papaya to give it even more of a tropical feel
Nutrition Info Per Serving
Nutrition Facts
Healthy Curried Chicken Salad With Apples
Amount Per Serving
Calories 236
Calories from Fat 50
% Daily Value*
Fat 5.6g9%
Cholesterol 2mg1%
Sodium 20.3mg1%
Potassium 76.1mg2%
Carbohydrates 8.5g3%
Protein 28.9g58%
Vitamin A 120IU2%
Net carbs 6.7g
* Percent Daily Values are based on a 2000 calorie diet.