Mounjaro is an injectable medication that helps people with type 2 diabetes manage their blood sugar levels.
It was first approved by the Food and Drug Administration (FDA) in 2022 and is quickly gaining popularity to help make diabetes management easier.
However, one of the side effects of the medication is weight loss.
So, can Mounjaro help you lose weight? This article will explain everything you need to know about weight loss and Mounjaro.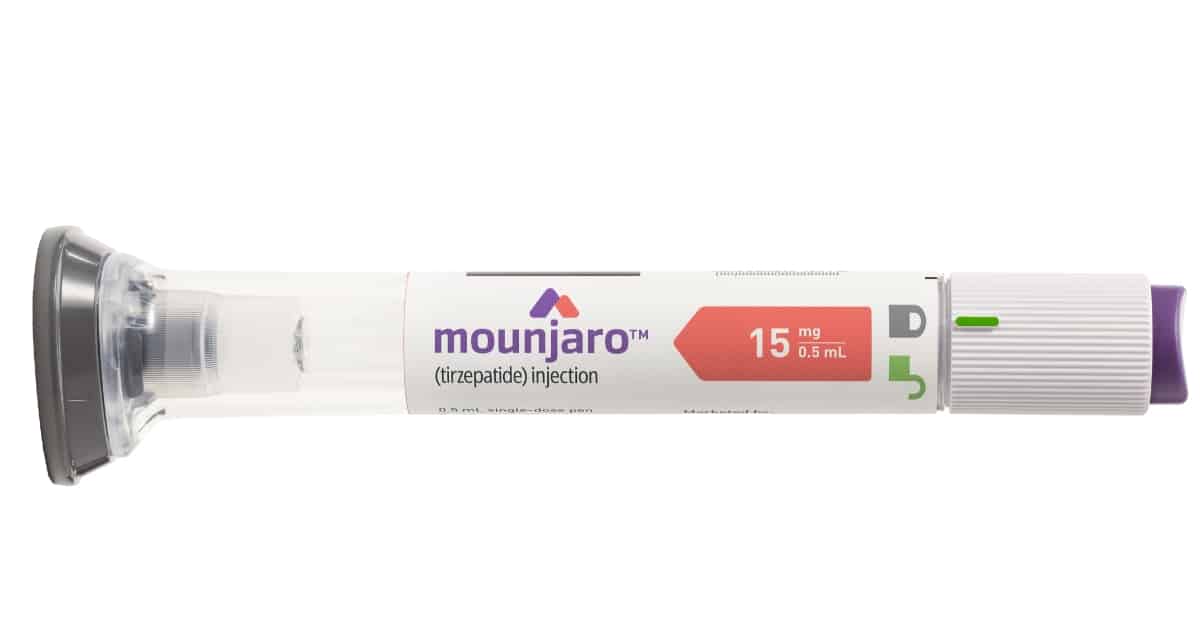 What is Mounjaro?
Mounjaro (tirzepatide) is the first medication available in the US that activates both the glucagon-like peptide 1 (GLP-1) agonist and GIP receptors.
It is an injectable medication, taken once per week, to help improve blood sugar levels and A1C.
The medication can be given in different doses:
2.5 milligrams per week
5 milligrams per week
7.5 milligrams per week
10 milligrams per week
15 milligrams per week
Your dose will depend on your health history, health goals, lifestyle, and weight.
Mounjaro is currently only FDA-approved for people with type 2 diabetes.
What are the side effects of Mounjaro?
Many people report adverse side effects, especially when they start taking Mounjaro.
Side effects may include:
Nausea
Diarrhea
Decreased appetite
Weight loss
Constipation
Stomachache
Gas
Bloating
Heartburn
Rapid heart rate
As your body adjusts to the medication, adverse side effects will usually clear up on their own.
Although rare, more serious side effects may occur, including:
Pancreatitis
Severe nausea, diarrhea, and vomiting
Severe low blood sugar
Gallbladder disease
Increased risk of thyroid cancer
Severe allergic reaction
Call your doctor immediately if you develop serious side effects or an allergic reaction after taking Mounjaro, as some side effects can be life-threatening.
Can Mounjaro help you lose weight?
Yes, and studies back this up.
Although Mounjaro is not FDA-approved as a weight loss drug, in the clinical trial, participants did lose a significant amount of weight when taking the medication.
In the clinical trial, the average body mass index (BMI) of study participants was between 32-34 at the time of enrollment.
The efficacy of Mounjaro was compared to a placebo, a GLP-1 receptor agonist (semaglutide), and two long-acting insulin analogs.
The participants in the trial on the maximum dose of Mounjaro (15mg/weekly) lost 15 pounds more than the placebo participants.
They also lost 23 pounds more than people who were only on insulin to manage their blood sugar levels.
The average participant's weight loss on the maximum dose of Mounjaro was:
12 pounds more than participants on the GLP-1 medication
29 pounds more than those on insulin degludec
27 pounds more than those on insulin glargine
Additionally, those on insulin without Mounjaro actually gained weight during the clinical trial period.
Eli Lilly is now having Mounjaro undergo additional weight loss studies to see if it can be FDA-approved as a weight loss drug.
In their second study, participants lost an average of 15.7% (an average of 34 pounds) of their total body weight, which is more weight loss than studies have shown for Ozempic.
Who should not take Mounjaro?
You should only take Mounjaro if your doctor has prescribed it for you, and most likely, if you have type 2 diabetes and are struggling with insulin resistance.
Mounjaro is not FDA-approved for people with type 1 diabetes, but your doctor may suggest it if you're struggling with high blood sugar levels and low insulin sensitivity.
Mounjaro is not recommended for people who are pregnant. You will have to stop the medication if you are pregnant or trying to become pregnant.
Do not use Mounjaro if you or any of your family members have ever had medullary thyroid carcinoma (MTC), or if you have Multiple Endocrine Neoplasia syndrome type 2 (MEN 2).
Do not use Mounjaro if you are allergic to tirzepatide or any of the ingredients in Mounjaro.
Tell your doctor all medications that you use before starting treatment with Mounjaro.
Can you take Mounjaro and other medications at the same time?
This will depend on what other medications you're taking.
Generally speaking, you can take Mounjaro with medications like metformin and/or insulin, if you've been prescribed all of the medications concurrently.
However, you should not combine Mounjaro with other GLP-1 medications or SGLT-2 inhibitor medications.
Always talk with your doctor if you're unsure of how any medications you take will interact with Mounjaro before starting Mounjaro or any other new diabetes medication.
How much Mounjaro do you take for weight loss?
There is no recommended dose for weight loss because Mounjaro isn't explicitly approved for weight loss by the FDA.
However, the medication is dose-responsive, so the more Mounjaro you take, the more weight you're likely to lose. 
Talk with your doctor if you want to lose weight.
There are diabetes treatments specifically approved by the FDA for weight loss.
How long does it take to lose weight on Mounjaro?
Taking Mounjaro for weight loss will not be successful overnight.
Any weight loss experienced while taking Mounjaro will also require lifestyle changes, such as modifying your diet and increasing physical activity.
Many studies looking at the efficacy of Mounjaro for weight loss have been conducted over many months, with the latest weight loss trial lasting nearly a year and a half.
Talk with your doctor if you wish to lose weight.
They can provide recommendations for sustainable, lasting weight loss.
Is Ozempic or Mounjaro better for weight loss?
Ozempic and Mounjaro both function similarly and can help with weight loss.
While neither medication is FDA-approved as a weight loss drug, both drugs suppress appetite and slow digestion.
Additionally, both medications help to stabilize blood sugar levels—which causes many people to lose weight while taking either one.
However, recent studies show that Mounajaro causes more weight loss than Ozempic in obese patients.
The average trial participant lost 12 pounds more when taking Mounjaro than Ozempic at the maximum weekly dosage of 15 mg.
Can I take Mounjaro if I don't have diabetes?
It's important to remember that Mounjaro is only FDA-approved for people with type 2 diabetes.
However, many medications for blood sugar control and weight loss are prescribed by physicians "off-label" (for purposes other than what it is approved for by the FDA.)
If your doctor has determined that you are a candidate for Mounjaro, they may prescribe you the medication off-label to treat conditions like:
Insulin resistance,
Weight gain
To improve blood sugar levels, even if you do not have diabetes
Never take a medication that is not prescribed for you.
Talk to your doctor before starting any medication, including Mounjaro.