This roundup of healthy diabetes-friendly salad dressings has everything you need to shake up your salad routine! Add delicious flavor while keeping things low carb.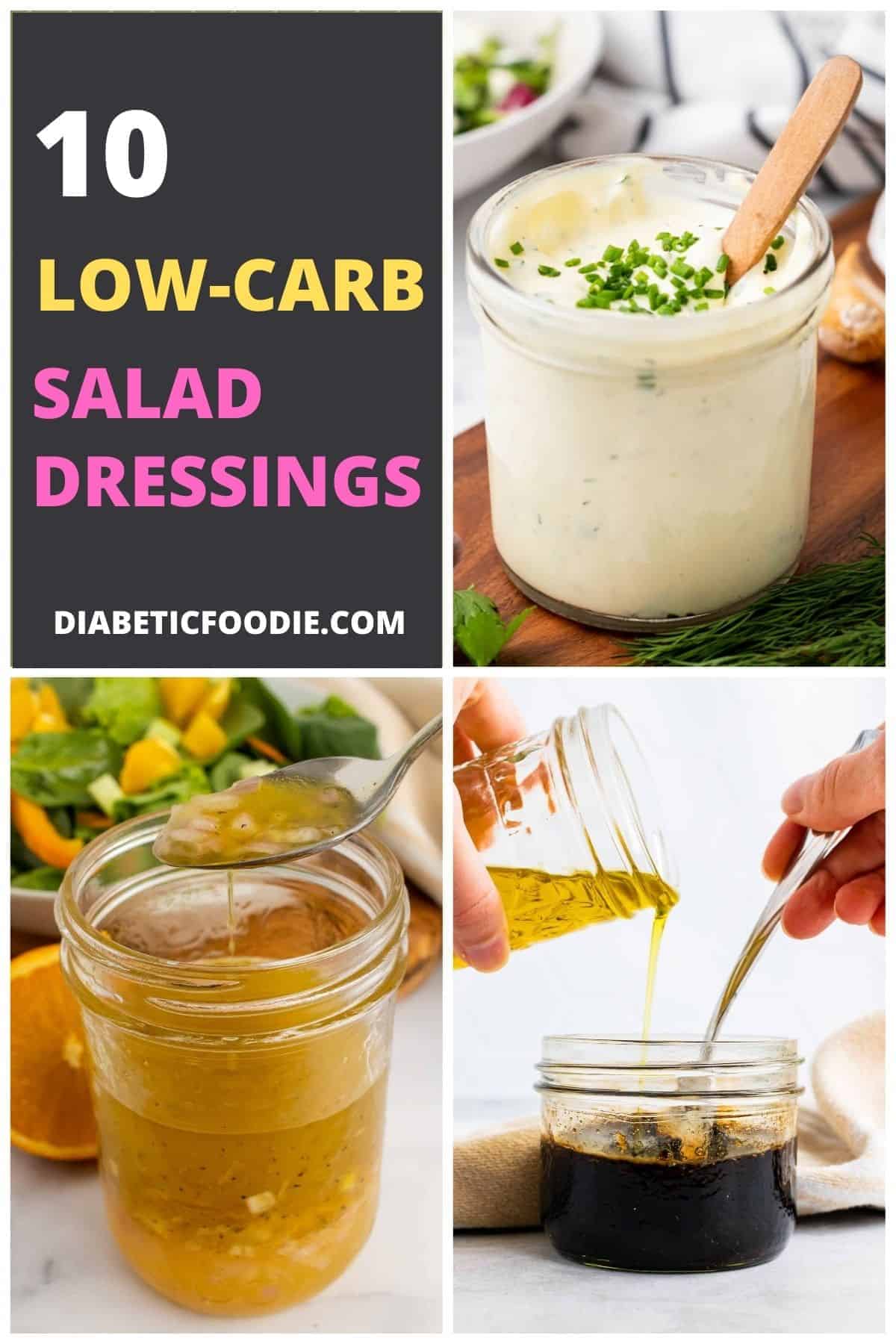 To dress or not to dress?
We're talking about salad dressings, of course!
You've probably heard that choosing the wrong dressing can add unwanted sugar, fat, carbs, or calories to a well-intentioned bowl of greens. But the right salad dressing can really make your meal pop with flavor and keep you coming back for more.
The trick is to find a dressing that matches your health goals while making your salad irresistibly tasty! Because let's face it: no one wants to eat a boring salad.
In fact, trying new salad dressings is a great way to shake up your salad routine. To keep things diabetes-friendly, I recommend choosing one that's lower in carbs and won't cause a spike in your blood sugar.
Or, better yet, make your own right at home. It's easier than you think, and you can have complete control over all of your ingredients. After that, you can dress to your heart's content!
Delicious healthy diabetes-friendly salad dressings
Whether you prefer creamy dressings, tangy vinaigrettes, or a little bit of both, this list of 10 healthy salad dressing recipes has something for everyone!
With so many flavors to try, salads may become the most exciting thing on your menu.
The hardest part is picking which one to try first. Once you do, make sure to let us know what you think in the comments below!
Diabetes-friendly store-bought brands
I love making my own dressings so I have complete control over my ingredients. That being said, there are a few store-bought brands that I enjoy because they use clean ingredients, have no added sugars, and give my salad an amazing pop of flavor.
If you're looking to purchase some pre-made salad dressing, here are a few I recommend:
More diabetes-friendly recipe inspiration
Eating healthy is so much easier when I'm looking forward to my menu. That's why I'm always keeping an eye out for new and exciting recipes to keep things fresh!
If you're looking for some fun and tasty inspiration, these roundups have plenty of ideas I know you'll enjoy:
If you try any of these recipes, don't forget to leave a comment below and let me know how you liked them!