It's meal plan and meal prep time! To be successful during any health journey, you need the right "fuel in the tank" in the right quantities, especially if are living with diabetes.
I have found that having a meal plan to follow makes living a healthy lifestyle much easier, and I enjoy trying out new food combinations and getting creative in the kitchen.
The meals that you'll find in my meal plans have been tested by both Tobias and myself to make sure they taste great and are easy to prepare. However, if any of them are not to your taste, you can always look at my other meal plans for substitutes.
This is the first meal plan of the Strong With Diabetes Challenge but not the first to be published on Diabetes Strong, so simply look up the other plans and it should be pretty easy for you to mix and match your favorite meals.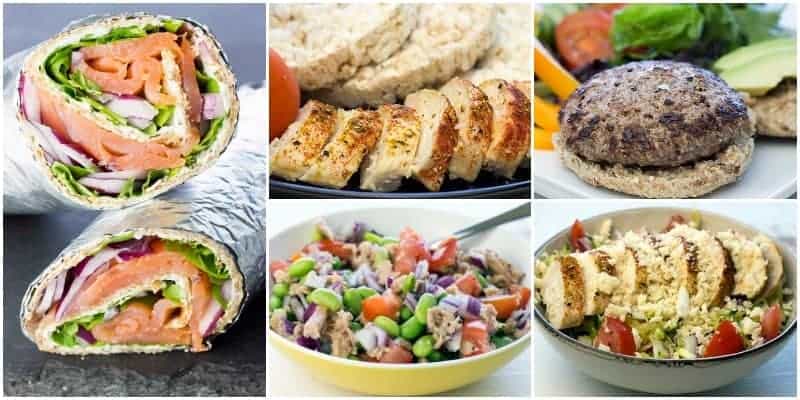 How to find your calorie need
We all have different calorie needs. Your daily calorie need depends on your size, fitness level, daily activity, gender, etc. When you are creating a healthy diabetes meal plan, your first step should therefore always be to calculate your "calorie equilibrium", or how many calories you need each day to maintain your current weight. You can learn exactly how to find you calorie equilibrium with 5 easy steps in this post: "How to Find Your Daily Calorie Need".
Once you know your calorie equilibrium, you can adjust your daily calories up or down to meet your goals. If your goal is to lose weight, I recommend that you eat up to 500 calories less than your equilibrium each day (but no less than 1,200 per day). This should lead to a steady and healthy weight loss.
If you want to gain muscle, start out by adding in 300-500 calories more than your equilibrium each day and see what happens. If you find that you are also putting on a little too much fat, decrease your calories slightly.
The Strong With Diabetes meal plan
Now that you know how to calculate your daily calorie need, you are ready to create a healthy diabetes meal plan. Well, I say create, but you can really just use the plan in this post as it is. I have already calculated all the macronutrients (calories, carbs, protein, and fat), so you just need to choose the calorie level that is right for you.
The example below is a 1,600 calorie/day plan, but you can download the meal plan as a PDF with many different calorie levels. The download also includes a version with grams instead of ounces for my international friends.
This meal plan has a calorie split of 30% carbs, 40% protein, and 30% fat, which is what I generally recommend for weight loss (you can read "How to Lose Weight When You Live with Diabetes" for more details).
If your goal is to build muscle, I recommend that you increase the carbs to 35-40% of your daily calories and decrease the fat to 20-25%. If this sounds a little complicated, you can simply add 20 g carbs to meal 4 or meal 5 (20 g carbs equals: 1 oz. oats, 3 oz. rice (cooked), 3.2 oz. sweet potato or quinoa (cooked) or 2.5 rice cakes).
I know that healthy nutrition (and especially how many carbs to eat) is a topic that causes a great deal of discussion in the diabetes community. I make no claim that my approach is the best or only way to do it, but it's what works for me and the clients I work with. If you are doing something different that works for you, then definitely keep doing it!
This is a 1,600-calorie example. You can see other calorie levels in the image at the end of this post or download them here.
Meal 1 – Smoked salmon and cream cheese wraps
1.5 low carb flour tortilla
2.7 oz. smoked salmon
1.3 oz. low-fat cream cheese
1.2 oz. red onion
Handful arugula
½ tsp. fresh or dried basil
Pinch of pepper
Instructions: Heat the tortilla in the oven or microwave. Mix cream cheese, basil, and pepper, and spread it onto the tortilla. Top it off with the salmon, arugula, and finely sliced onion. Roll up the wrap and enjoy!
Pro tip: Heat the tortilla it between 2 pieces of moist paper towel to keep it from drying out.
Nutrients: 368 calories, 36 g protein, 28 g carbs, 22 g fat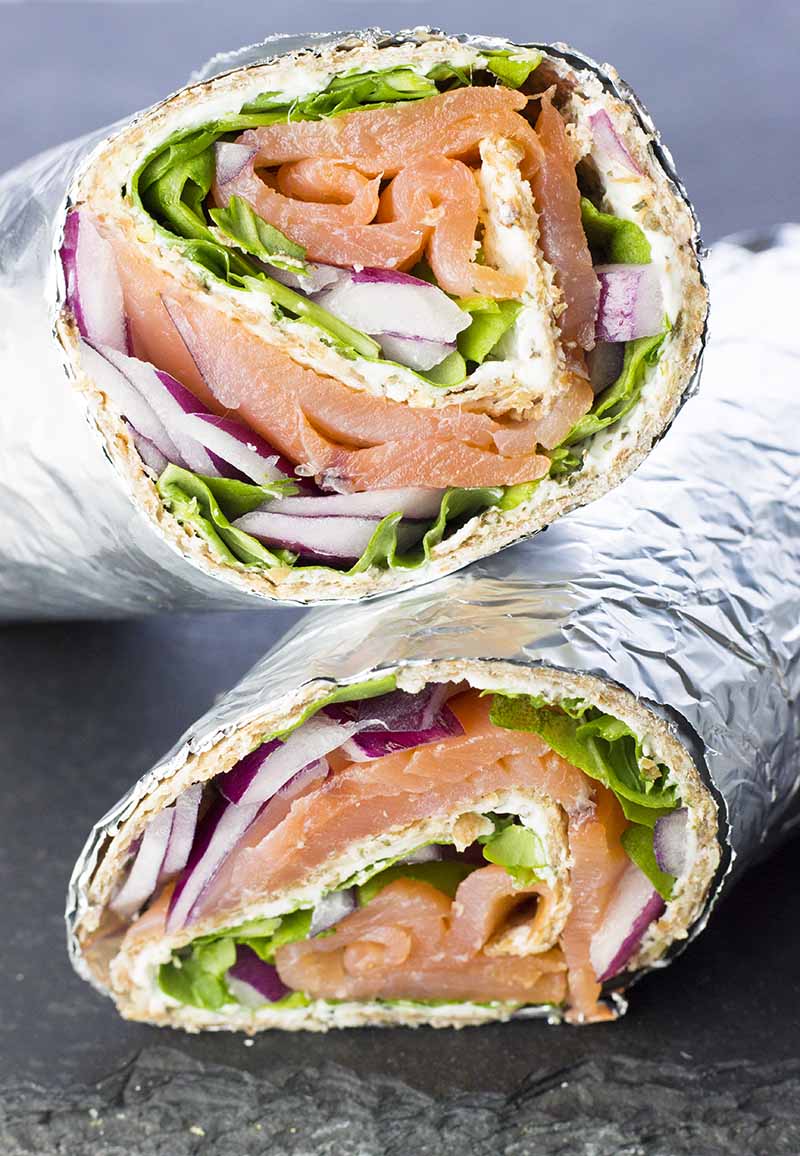 Meal 2 – Chicken & rice cakes
4 oz. cooked chicken
3 rice cakes
Instructions: This is an easy snack to bring along with you when you're going out. Just bake or skillet fry the chicken and bring along.
Pro tip: Follow the instruction in my guide on "How to Cook the Perfect Chicken Breast".
Nutrients: 217 calories, 28 g protein, 21 g carbs, 1 g fat
Meal 3 – Healthy burger
4 oz. ground beef (max. 93%)
½ Ezekiel muffin
1.3 oz. avocado
4 oz. veggies (salad, tomato, cucumber, pepper, onions)
Salt & pepper
Cooking spray
Optional: mustard & ketchup
Instructions: Wash and cut veggies and avocado. Heat Ezekiel muffin and (if desired) add condiments. Form ground beef into patties and season with pepper. Coat a skillet with cooking spray and fry the meat for 3 min. on each side (if you want it cooked thoroughly, add another min. per side). Take off the heat and season with salt.
Pro tip: This is delicious both warm and cold, so you can serve it at whatever temperature you'd like.
Nutrients: 336 calories, 28 g protein, 24 g carbs, 14 g fat
Meal 4 – Tuna salad with edamame
2.7 oz. drained tuna (canned in water)
2 oz. shelled edamame
2.7 oz. mixed veggies (tomato, red onion)
1 tsp. lemon juice
Salt & pepper
Instructions: Wash and cut veggies into bite-sized pieces. Mix all the ingredients in a bowl and toss with lemon juice, salt and pepper.
Nutrients: 181 calories, 27 g protein, 9 g carbs, 3 g fat
Meal 5 – Chicken & Spaghetti Squash
4 oz. cooked chicken breast
4 oz. cooked Spaghetti Squash
0.9 oz. grated parmesan cheese
4 oz. veggies (shredded zucchini, tomato and onion)
¼ tsp. dried basil
Salt & pepper
Curry powder, pepper and paprika
Cooking spray
Instructions: Cut the spaghetti squash in quarters and scoop out the seeds. Bake for 40 minutes at 400 F (200 C), skin side up. Let it cool for minimum 10 minutes before scooping out the flesh with a fork.
Wash and cut the veggies into bite-sized pieces. Coat a deep skillet or Wok with cooking spray and flash fry the cooked spaghetti squash. Toss with the veggies, dried basil leaves, salt and pepper and let it cook for another 2 min. Take off the heat and arrange chicken on top, then sprinkle a little shredded parmesan cheese over everything.
Pro tip: Follow the instruction in my guide on "How to Cook the Perfect Chicken Breast".
Pro tip #2: You can keep cooked spaghetti squash in the fridge for a few days in an airtight container.
Nutrients: 284 calories, 36 g protein, 14 g carbs, 9 g fat
Meal 6 – Egg white & flaxseed omelet
4 oz. egg white
1.3 oz. flaxseed meal
1 tsp. sugar-free strawberry jam (optional)
1 tsp. stevia (optional)
Instructions: Whisk egg whites, flaxseed meal, and stevia together in a mixing bowl. Coat a pan with cooking spray. Fry the egg white omelet until golden (about 4-5 min. total). Serve with the jam on top.
Nutrients: 237 calories, 21 g protein, 15 g carbs, 10 g fat
Daily totals: 1,621 calories, 175 g protein, 111 g carbs, and 58 g fat.
Changing up the plan
I like to eat the same foods for several days in a row with only minor changes and then change the plan every week or so. I would suggest that you follow this plan for a week and then start on the next plan (which I will post in a week from now). You can also go back and follow my one of my other meal plans for another week.
If you click the image below, you will get the option to download the meal plan as a document that also has a version with grams instead of ounces.