I've been cooking up a storm, and have come up with another meal plan for you guys.
Remember, no matter what your health and diabetes goals are, your nutrition is probably the most important factor deciding if you'll be successful or not. Nutrition can be tricky, so I've taken the guesswork out of the equation and am excited to bring you another Fit With Diabetes Meal Plan.
If you have read Fit With Diabetes Meal Plan #1 and know how to calculate your daily calorie need, you can skip the next section and go straight to the meal plan.
CLICK HERE TO SKIP TO THE MEAL PLAN
How to find your daily calorie need
We all have different calorie needs. Your daily calorie need depends on your size, fitness level, daily activity, gender, etc. When you are creating a healthy diabetes meal plan, your first step should therefore always be to calculate your "calorie equilibrium", or how many calories you need each day to maintain your current weight. You can learn exactly how to find you calorie equilibrium with 5 easy steps in this post: "How to Find Your Daily Calorie Need".
Once you know your calorie equilibrium, you can adjust your daily calories up or down to meet your goals. If your goal is to lose weight, I recommend that you eat up to 500 calories less than your equilibrium each day. That should lead to a steady and healthy weight loss.
If you want to gain muscle, start out with 300-500 calories more than your equilibrium each day and see what happens. If you find that you are also putting on a little too much fat, decrease your calories slightly.
The Fit with Diabetes meal plan
Now that you know how to calculate your daily calorie need, you are ready to create a healthy diabetes meal plan. Well, I say create, but you can really just use the plan in this post as it is. I have already calculated all the macronutrients (calories, carbs, protein, and fat), so you just need to choose the calorie level that is right for you.
The example below is a 1,600 calorie/day plan, but you can download the meal plan as a PDF with many different calorie levels. The download also includes a version with grams instead of ounces for my international friends.
This meal plan has a calorie split of 30% carbs, 40% protein, and 30% fat, which is what I generally recommend for weight loss (you can read "How to Lose Weight When You Live with Diabetes" for more details).
If your goal is to build muscle, I would recommend that you increase the carbs to 35-40% of your daily calories and decrease the fat to 20-25%.
I know that healthy nutrition (and especially how many carbs to eat) is a topic that causes a great deal of discussion in the diabetes community. I make no claim that my approach is the only right way to do it, but it's what works for me and the clients I work with. If you are doing something different that works for you, then definitely keep doing it!

The meal plan is gluten-free and low FODMAP. If you have any other food allergies or intolerances, you will have to make adjustments yourself.
This is a 1,600-calorie example. You can download a PDF with other calorie levels and a shopping list here.
Meal 1 – Apple, Peanut butter Greek Yogurt
4 oz. Apple (I like Pink Lady)
6.7 oz. Plain Low Fat Greek Yogurt
0.9 oz. Peanut or almond butter
1 tbsp. Stevia (optional)
Instructions: Wash and cut the apple into wedges. Sprinkle stevia on yogurt and finish with a dollop of peanut butter
Nutrients: 325 calories, 26 g protein, 28 g carbs, 13 g fat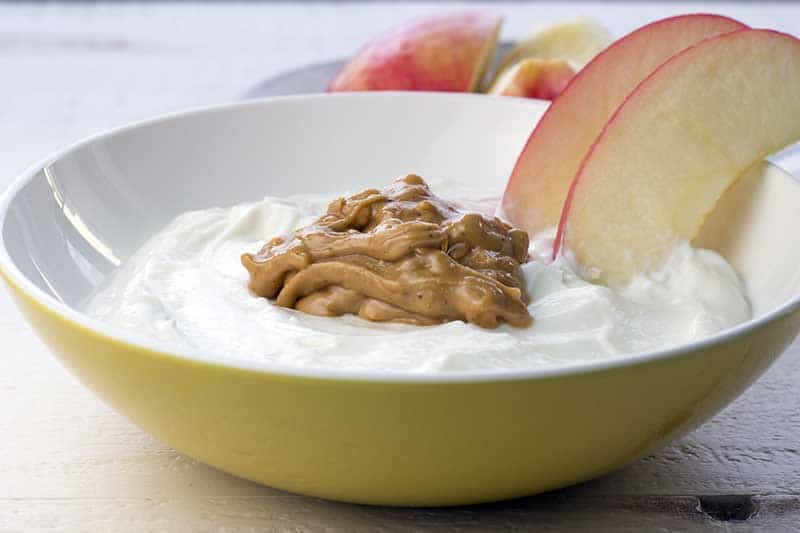 Meal 2 – Black bean paste, mozzarella and veggies sticks
2 oz. Black beans (drained)
2 oz. Low Fat Mozzarella
3.5 oz. Veggies (Peppers, tomato, cucumber)
Garlic
1 tsp. Lemon juice
Salt & Pepper
Instructions: Mash the beans in a bowl with a fork. Add pressed garlic (1 clove per 2 oz. beans), lemon juice, and a pinch of salt and pepper. Mix it all together. Cut veggies into sticks and use them to scoop up the bean paste.
Pro tip: You can use canned black beans. Just watch the sodium content.
Nutrients: 232 calories, 19 g protein, 16 g carbs, 10 g fat
Meal 3 – Chicken, brown rice, avocado and veggies
5.3 oz. Chicken breast
4 oz. Brown rice (cooked)
1.3 oz. Avocado
4.7 oz. Mixed veggies
Salt & pepper
Cooking spray
Instructions: Cut chicken into smaller pieces and season with salt and pepper. Coat a skillet with cooking spray and cook chicken (always fully cook poultry). Serve with brown rice, avocado, and veggies
Pro tip #1: For baked chicken follow my "How to Cook the Perfect Chicken Breast" guide to make the perfect juicy chicken breast
Pro tip #2: You can easily cook rice for several days and keep in the fridge for when needed
Nutrients: 301 calories, 35 g protein, 26 g carbs, 7 g fat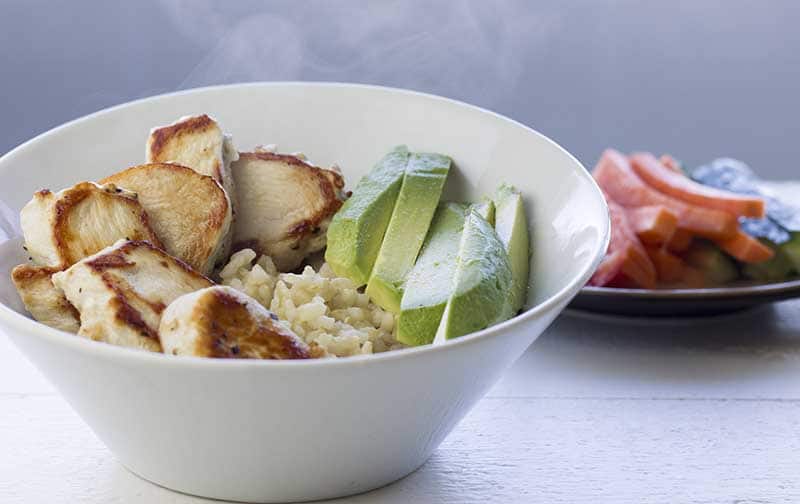 Meal 4 – Ground beef & spaghetti squash
4.4 oz. Ground beef (92-93% lean)
5.3 oz. Cooked spaghetti squash
3.5 oz. Broccoli
Cooking spray
Salt & pepper
Mustard or soy sauce
Instructions: Cut the spaghetti squash in quarts and scoop out the seeds. Bake for 40 minutes at 400 F (200 C), skin side up. Let it cool for minimum 10 minutes before scooping out the flesh with a fork.
Cut broccoli into small florets. Coat a pan with cooking spray and add the broccoli when it's warm. Cook the broccoli for 3 min. then add the ground beef. Let the beef brown before adding the spaghetti squash. Mix well for about 3 minutes and season with salt and pepper. Serve with mustard or soy sauce.
Pro tip: You can keep cooked spaghetti squash in the fridge for a few days in an airtight container.
Nutrients: 252 calories, 27 g protein, 15 g carbs, 9 g fat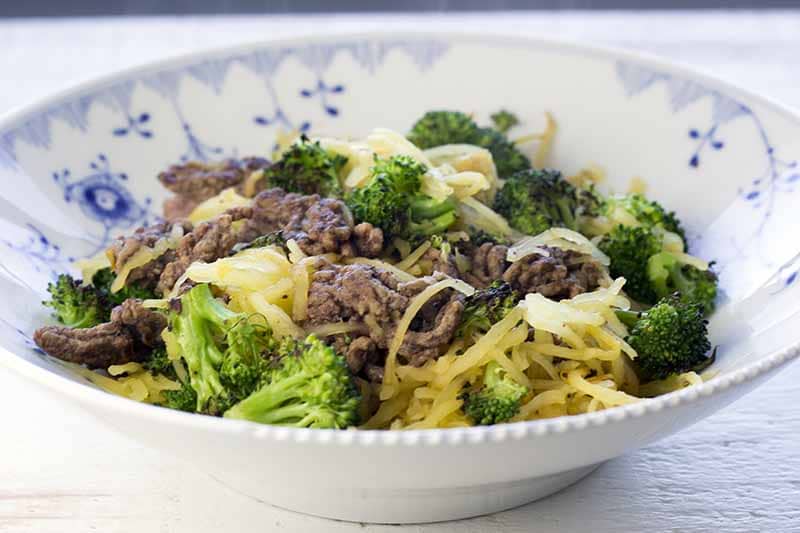 Meal 5 – Marinated fish with quinoa pilaf
6.0 oz. Tilapia or other white fish
3.2 oz. Quinoa (cooked)
3.5 oz. Veggies (Peppers, tomato, cucumber)
2 tbsp. Parsley
½ tsp. Garlic powder
½ tsp. Onion powder
1 tsp. Lemon
Salt & pepper
Instructions: Mix lemon juice, garlic powder, onion powder, salt and pepper in a bowl or large zip lock. Place the raw fish in the lemon juice mixture and let it marinate for minimum 30 minutes (overnight is great too). Take the fish out of the marinade and bake it in the oven for 10-12 min at 400 F (200 C).
Chop veggies and parsley finely, and place in a mixing bowl with the cooked quinoa. Stir together with lemon juice salt and pepper, and it's ready to serve.
Pro tip: If you are short on time, you can microwave the fish for 2 min. in the lemon juice instead of baking it.
Nutrients: 283 calories, 35 g protein, 22 g carbs, 5 g fat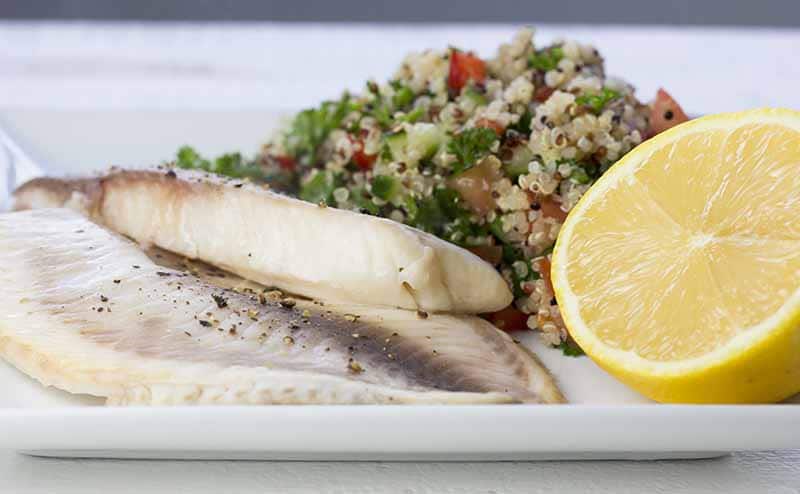 Meal 6 – Greek yogurt night cab
5.3 oz. Plain Low Fat Greek Yogurt
1.3 oz. Blueberries
0.5 oz. Peanut or almond butter
Stevia (optional)
Instructions: Mix Greek yogurt and Stevia. Serve with a dollop of nut butter and berries on top.
Nutrients: 196 calories, 19 g protein, 14 g carbs, 8 g fat
Daily totals:  1,589 calories, 160 g protein, 121 g carbs, and 51 g fat.
Changing up the plan
I like to eat the same foods several days in a row with only minor changes and then change the plan every week or so. I would suggest that you follow this plan for a week and then start on Fit With Diabetes Meal Plan #3. You can also go back and follow my Fit With Diabetes Meal Plan #1 for another week.
Click here to download the meal plan and shopping list as a PDF.