This week's meal plan is super easy and quick to prepare. All of the meals are ready in just a few minutes and require minimal cooking. But they still taste great!
It's the last meal plan in the Fit with Diabetes challenge, and I hope that the four weekly plans we have followed for the challenge have given you a lot of inspiration to include more healthy and tasty food in your daily routine.
Don't worry, this will definitely not be the last meal plan on Diabetes Strong and you can always check my meal plan library for inspiration to your meal plans, even after the challenge is over.
If you have read Fit With Diabetes Meal Plan #1 and know how to calculate your daily calorie need, you can skip the next section and go straight to the meal plan.
CLICK HERE TO SKIP TO THE MEAL PLAN
How to find your daily calorie need
We all have different calorie needs. Your daily calorie need depends on your size, fitness level, daily activity, gender, etc. When you are creating a healthy diabetes meal plan, your first step should therefore always be to calculate your "calorie equilibrium", or how many calories you need each day to maintain your current weight. You can learn exactly how to find you calorie equilibrium with 5 easy steps in this post: "How to Find Your Daily Calorie Need".
Once you know your calorie equilibrium, you can adjust your daily calories up or down to meet your goals. If your goal is to lose weight, I recommend that you eat up to 500 calories less than your equilibrium each day. That should lead to a steady and healthy weight loss.
If you want to gain muscle, start out with 300-500 calories more than your equilibrium each day and see what happens. If you find that you are also putting on a little too much fat, decrease your calories slightly.
The Fit with Diabetes meal plan
Now that you know how to calculate your daily calorie need, you are ready to create a healthy diabetes meal plan. Well, I say create, but you can really just use the plan in this post as it is. I have already calculated all the macronutrients (calories, carbs, protein, and fat), so you just need to choose the calorie level that is right for you.
The example below is a 1,600 calorie/day plan, but you can download the meal plan as a PDF with many different calorie levels. The download also includes a version with grams instead of ounces for my international friends.
This meal plan has a calorie split of 30% carbs, 40% protein, and 30% fat, which is what I generally recommend for weight loss (you can read "How to Lose Weight When You Live with Diabetes" for more details).
If your goal is to build muscle, I would recommend that you increase the carbs to 35-40% of your daily calories and decrease the fat to 20-25%.

I know that healthy nutrition (and especially how many carbs to eat) is a topic that causes a great deal of discussion in the diabetes community. I make no claim that my approach is the only right way to do it, but it's what works for me and the clients I work with. If you are doing something different that works for you, then definitely keep doing it!
This is a 1,600-calorie example. You can download a PDF with other calorie levels and a shopping list here.
Meal 1 – Scrambled eggs and berries
4.7 oz. raspberries
5.3 oz. egg whites
1 whole egg
Cooking spray
Salt & pepper
Ketchup or hot sauce (optional)
Instructions: Whisk egg whites, whole egg, salt, and pepper together in a bowl. Coat a pan with cooking spray and pour in the egg mixture when hot. Move the egg mixture around on the pan with a spatula until cooked to desired consistency. Serve with a side of berries
Pro tip #1: Buy liquid egg whites so you don't have to crack any eggs.
Nutrients: 226 calories, 24 g protein, 16 g carbs, 6 g fat
Meal 2 – Edamame and veggies
5.3 oz. shelled edamame
2.7 oz. mixed veggies (carrot, pepper, cucumber)
Instructions: Wash and enjoy
Nutrients: 202 calories, 18 g protein, 24 g carbs, 5 g fat
Pro tip: Edamame can be bought frozen and quickly thawed in the microwave
Meal 3 – Chicken & hummus lunch wrap
5.3 oz. chicken breast
1.5 whole wheat tortilla
1.3 oz. hummus
4 oz. veggies (cucumber, pepper, lettuce, tomato)
Salt & pepper
Instructions: Season chicken with salt and pepper and bake for 20 min. at 360 degrees. Take it out of the oven and let it cool before cutting it into thin slices or strips. Wash veggies and cut into sticks. Spread hummus on the tortilla and roll it up with the chicken and veggies.
Pro tip #1: If you are bringing your lunch to work or school, bring the prepared ingredients and 'assemble' before eating to avoid the wrap getting soggy.
Pro tip #2: Follow my "How to Cook the Perfect Chicken Breast" guide to make the perfect juicy chicken breast.
Nutrients: 359 calories, 41 g protein, 32 g carbs, 8 g fat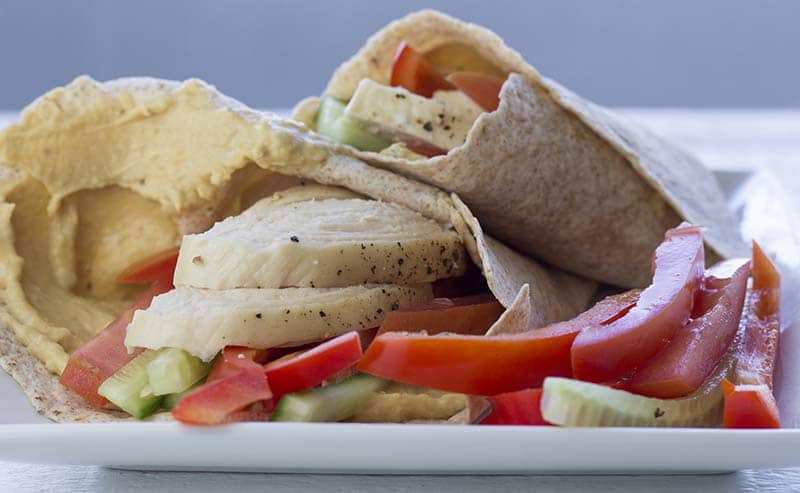 Meal 4 – Veggies & cheese with hummus dip
1.6 oz. low-fat mozzarella
2.7 oz. hummus
2.7 oz. mixed veggies (cucumber, pepper)
Instructions: Wash veggies and cut into sticks. Dip away
Nutrients: 278 calories, 19 g protein, 17 g carbs, 16 g fat
Meal 5 – Marinated turkey with veggie quinoa
5.3 oz. turkey breast
2.7 oz. quinoa (cooked)
0.3 oz. coconut oil
4 oz. veggies (pepper, cucumber, tomato)
1 tsp. olive oil
1½ tsp. balsamic vinegar
¼ tsp. garlic powder
¼ tsp. dried basil
¼ tsp. thyme
Instructions: Mix basil, thyme, garlic powder, and pepper with balsamic vinegar and olive oil in a bowl or large Ziploc.
Cut the turkey breast into strips and place in the marinade for minimum an hour.
Fry the turkey in the marinade for 3-4 minutes at medium heat. Check with a knife that it's fully cooked.
Mix the cool quinoa with the coconut oil and finely chopped veggiess.
Pro tip: Marinate enough turkey for several days. Then just pull out what you need each day.
Nutrients: 353 calories, 33 g protein, 20 g carbs, 16 g fat
Meal 6 – Greek yogurt with berries
6.7 oz. plain low-fat Greek yogurt
2.7 oz. blueberries
1 tbsp. Stevia (optional)
Instructions: Sprinkle stevia on the yogurt and top with washed berries.
Nutrients: 167 calories, 23 g protein, 20 g carbs, 0 g fat
Daily totals:  1,584 calories, 158 g protein, 128 g carbs, and 51 g fat.
Changing up the plan
I like to eat the same foods several days in a row with only minor changes and then change the plan every week or so. I would suggest that you follow this plan for a week and then start on Fit With Diabetes Meal Plan #5. You can also go back and do the Fit With Diabetes Meal Plan #3 for another week.
Click here to download the meal plan and shopping list as a PDF.