Time for another healthy meal plan! Once again, I've created a super easy medium/low carb meal plan with tasty recipes that are quick to prepare.
All of the meals in the plan are ones I eat myself and love. However, if you don't like some of them, you can always look at my other meal plans for substitutes. This is the fifth meal plan I share, so by now, it should be pretty easy to mix and match your favorite meals.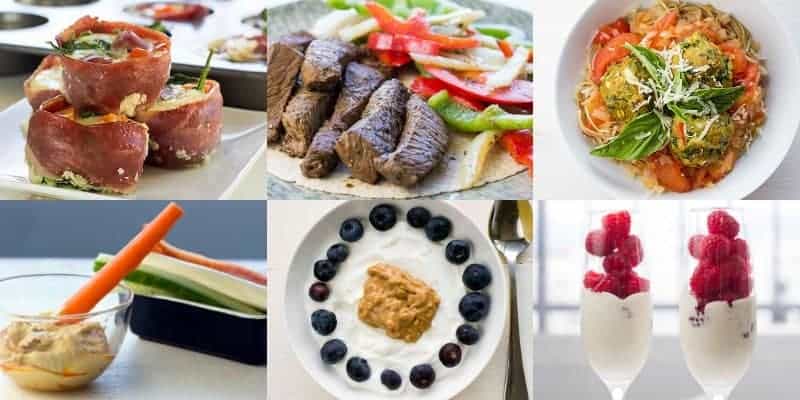 If you have read Fit With Diabetes Meal Plan #1 and know how to calculate your daily calorie need, you can skip the next section and go straight to the meal plan.
CLICK HERE TO SKIP TO THE MEAL PLAN
We all have different calorie needs. Your daily calorie need depends on your size, fitness level, daily activity, gender, etc. When you are creating a healthy diabetes meal plan, your first step should therefore always be to calculate your "calorie equilibrium", or how many calories you need each day to maintain your current weight. You can learn exactly how to find you calorie equilibrium with 5 easy steps in this post: "How to Find Your Daily Calorie Need".
Once you know your calorie equilibrium, you can adjust your daily calories up or down to meet your goals. If your goal is to lose weight, I recommend that you eat up to 500 calories less than your equilibrium each day. That should lead to a steady and healthy weight loss.
If you want to gain muscle, start out with 300-500 calories more than your equilibrium each day and see what happens. If you find that you are also putting on a little too much fat, decrease your calories slightly.
The Fit with Diabetes meal plan
Now that you know how to calculate your daily calorie need, you are ready to create a healthy diabetes meal plan. Well, I say create, but you can really just use the plan in this post as it is. I have already calculated all the macronutrients (calories, carbs, protein, and fat), so you just need to choose the calorie level that is right for you.
The example below is for a 1,600 calorie/day plan, but you can download the meal plan as a PDF with many different calorie levels. The download also includes a version with grams instead of ounces for my international friends.
This meal plan has a calorie split of 30% carbs, 40% protein, and 30% fat, which is what I generally recommend for weight loss (you can read "How to Lose Weight When You Live with Diabetes" for more details).
If your goal is to build muscle, I would recommend that you increase the carbs to 35-40% of your daily calories and decrease the fat to 20-25%.
I know that healthy nutrition (and especially how many carbs to eat) is a topic that causes a great deal of discussion in the diabetes community. I make no claim that my approach is the only right way to do it, but it's what works for me and the clients I work with. If you are doing something different that works for you, then definitely keep doing it!

If you have any other food allergies or intolerances, you will have to make adjustments yourself.
This is a 1,600-calorie example. You can see other calorie levels in the image at the end of this post or download them here.
Meal 1 – Egg muffins with turkey bacon
Instructions: Follow the instructions in my Healthy Egg Muffins recipe.
Pro tip #1: Make 1-2 batches and store in the fridge. They can also be used as "back-up" snacks.
Nutrients: 332 calories, 37 g protein, 7 g carbs, 17 g fat
Meal 2 – Greek yogurt with nut butter and berries
3.3 oz. plain low-fat Greek yogurt
0.7 oz. Nut butter (peanut or almond)
2.4 oz. blueberries
1 tbsp. Stevia (optional)
Instructions: Sprinkle stevia on the yogurt, stir in nut butter and top with the berries.
Nutrients: 206 calories, 15 g protein, 17 g carbs, 10 g fat
Meal 3 – Steak fajita
5.3 oz. Steak (sirloin, flat iron)
1 whole wheat tortilla (80 calories and 14 g carbs per tortilla)
4 oz. veggies (pepper, onions)
1 tsp. soy sauce
1 tsp. balsamic
½ tsp. dried oregano
½ tsp. dried basil
Salt & pepper
Instructions: Mix soy, balsamic, oregano, basil, salt and pepper in a Ziploc or small bowl. Cut the steak into strips and leave it in the marinade for at least 20 minutes. Cut the veggies into strips and set aside. Heat a skillet and cook the marinated steak for 1-2 minutes on each side. Take the steak off the skillet and set aside. Fry the veggies in the remaining marinade for about 5 minutes. While the veggies fry, heat the tortilla (per the instructions on the packaging). Roll up the meat and veggies in the tortilla and enjoy!
Pro tip #1: The meat doesn't have to be marinated and can be eaten cold as well.
Nutrients: 284 calories, 36 g protein, 20 g carbs, 6 g fat
Meal 4 – Veggies & cheese with hummus dip
1.6 oz. low-fat mozzarella
2.7 oz. hummus
2.7 oz. mixed veggies (cucumber, pepper)
Instructions: Buy a good hummus. Wash veggies and cut into sticks. Dip away.
Nutrients: 278 calories, 19 g protein, 17 g carbs, 16 g fat
Meal 5 – Turkey meatballs & whole wheat pasta
1.3 oz. whole wheat pasta (cooked weight)
0.9 oz. grated parmesan cheese
4 oz. veggies (tomato and onion)
1 garlic clove
¼ tsp. dried basil
¼ tsp. thyme
Cooking spray
Instructions: Follow my turkey meatball recipe to make the meatballs.
Cut the stems of the tomatoes and boil the tomatoes for a few minutes (just long enough that the skin comes off). Let them cool before cutting them into smaller pieces. Mince garlic and chop onions. Cook the pasta and set aside. Heat a skillet and apply a little cooking spray. Cook garlic and onions for 2-3 minutes before adding tomatoes and spices. Let it simmer for 5 minutes and mix with pasta. Serve with turkey meatballs and grated parmesan cheese on top.
Nutrients: 431 calories, 45 g protein, 41 g carbs, 10 g fat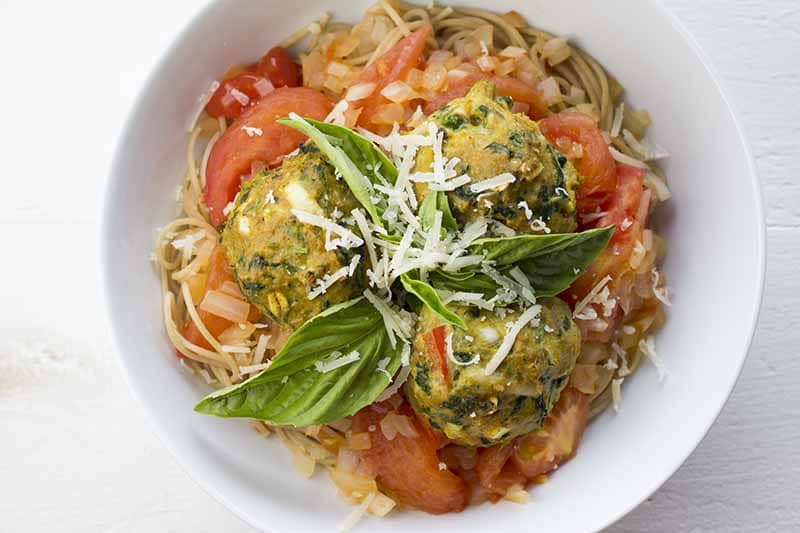 Meal 6 – Cottage cheese parfait with berries
2.7 oz. Low-fat cottage cheese
1.3 oz. Raspberry
1/8 tsp. cinnamon
4 drops liquid Stevia
¼ tsp. vanilla extract
Instructions: Blend all the ingredients except the berries (I used my Nutribullet). Put the berries on top and enjoy!
Nutrients: 73 calories, 11 g protein, 8 g carbs, 0 g fat
Daily totals:  1,605 calories, 162 g protein, 109 g carbs, and 58 g fat.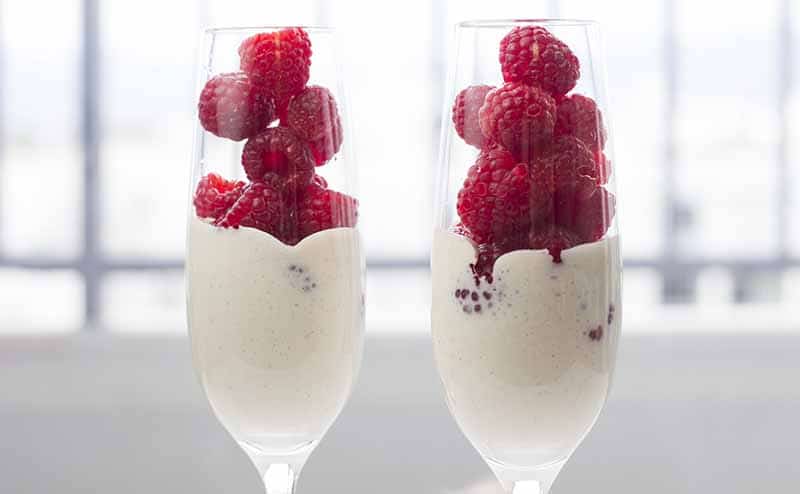 Changing up the plan
I like to eat the same foods several days in a row with only minor changes and then change the plan every week or so. I would suggest that you follow this plan for a week and then start on another plan. You can also go back and follow my Fit With Diabetes Meal Plan #4 for another week.
If you click the image below, you will get the option to download the meal plan as a document that also has a version with grams instead of ounces.