Welcome to the first Healthy With Diabetes meal plan. The plan includes plenty of lean proteins, low/medium glycemic carbs, and healthy fats, all cornerstones of a well-balanced diet.
The important part here is not so much following the diet to the letter, but rather starting healthy habits and getting some great ideas for healthy and tasty meals that won't cause complete havoc on your blood sugars or waistline.
Of course, if some of the meals in this plan don't work for you, you can always look at my other meal plans for substitutes. Mix and match as you like, just try to match the macros (carbs, protein, and fats) for each meal.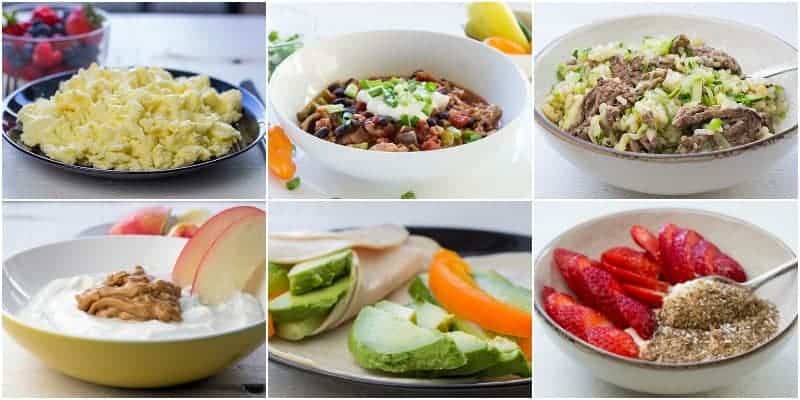 How to find your calorie need
If you already know how many calories you need to reach your goal, you can skip the next section and go straight to the meal plan.
CLICK HERE TO SKIP TO THE MEAL PLAN
We all have different calorie needs. Your daily calorie need depends on your size, fitness level, daily activity, gender, etc. When you are creating a healthy diabetes meal plan, your first step should therefore always be to calculate your "calorie equilibrium", or how many calories you need each day to maintain your current weight.
You can learn exactly how to find your calorie equilibrium with 5 easy steps in this post: "How to Find Your Daily Calorie Need".
Once you know your calorie equilibrium, you can adjust your daily calories up or down to meet your goals. If your goal is to lose weight, I recommend that you eat up to 500 calories less than your equilibrium each day (but no less than 1,200 per day). This should lead to a steady and healthy weight loss.
If you want to gain muscle, start out by adding in 300-500 calories more than your equilibrium each day and see what happens. If you find that you are also putting on a little too much fat, decrease your calories slightly.
The Healthy With Diabetes meal plan
Now that you know how to calculate your daily calorie need, you are ready to create a healthy diabetes meal plan. Well, I say create, but you can really just use the plan in this post as it is. I have already calculated all the macronutrients (calories, carbs, protein, and fat), so you just need to choose the calorie level that is right for you.
The example below is for a 1,600 calorie/day plan, but you can download the meal plan as a PDF with many different calorie levels. The download also includes a version with grams instead of ounces for my international friends.
This meal plan has a calorie split of 30% carbs, 40% protein, and 30% fat, which is what I generally recommend for weight loss (you can read "How to Lose Weight When You Live with Diabetes" for more details).
If your goal is to build muscle, I recommend that you increase the carbs to 35-40% of your daily calories and decrease the fat to 20-25%.

I know that healthy nutrition (and especially how many carbs to eat) is a topic that causes a great deal of discussion in the diabetes community. I make no claim that my approach is the best or only way to do it, but it's what works for me and the clients I work with. If you are doing something different that works for you, then definitely keep doing it!
This is a 1,600-calorie example. You can download a PDF with other calorie levels and a shopping list here.
Meal 1 – Scrambled eggs, berries & almonds
5.3 oz. egg whites
1 whole egg
0.7 oz. raw almonds
6.7 oz. mixed berries (I used raspberry, strawberry, and blueberries)
Cooking spray
Salt & pepper
Sugar-free ketchup (optional)
Instructions: Wash berries and pat them dry with a paper towel.
Coat a pan with cooking spray and put over medium heat. Whisk egg whites and whole egg with salt and pepper, and pour into the pan. Stir until the eggs are cooked to a scramble.
Nutrients: 363 calories, 27 g protein, 17 g carbs, 14 g fat
Meal 2 – Greek yogurt, apple & peanut butter
3 oz. apple (I like Pink Lady)
4 oz. plain low-fat Greek yogurt
0.3 oz. peanut or almond butter
1 tbsp. Stevia (optional)
Instructions: Wash and cut the apple into wedges. Sprinkle Stevia on the yogurt and finish with a dollop of peanut butter
Nutrients: 169 calories, 14 g protein, 20 g carbs, 5 g fat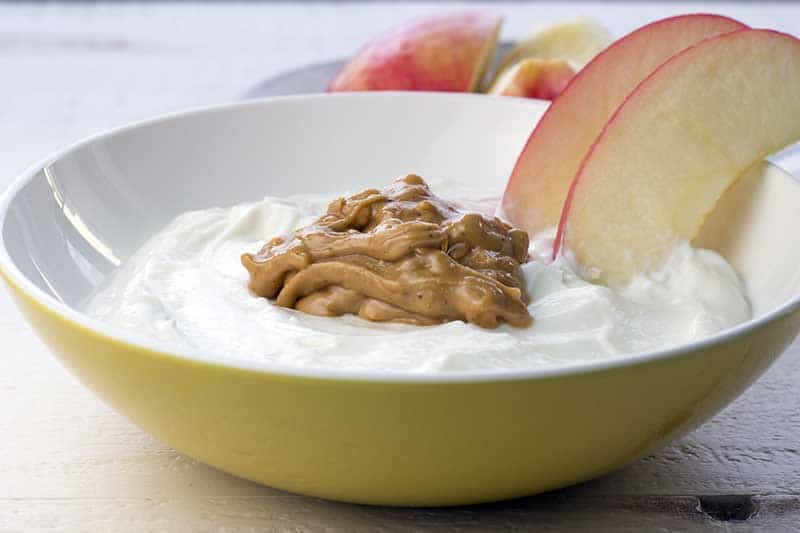 Meal 3 – Turkey chili
5.3 oz. ground turkey (99%)
½ jalapeño
½ red chili
4 oz. canned chopped tomatoes
4 oz. cooked black beans (can be from a can)
1 clove of garlic
2.7 oz. onion
¼ cup chicken stock (or just use 1/4 Knorr bouillon cube)
½ tsp. paprika
½ tsp. salt and pepper
1 tbsp. green onion
1 tbsp. fat-free sour cream (optional)
Instructions: Chop Jalapeño, red chili, onion, and garlic and sauté on a hot pan until the onions become translucent (about 2-4 minutes). If you want to reduce the heat of the chilies a little, you can remove the seeds.
Add turkey to the pan, mix everything together and let it all cook for another 5 minutes. Add tomatoes, black beans, chicken stock, and spices and let it simmer for 10-15 minutes. Serve with chopped green onions and sour cream on top.
Pro tip: This is a great recipe to make a big pot of and eat all week (or freeze so you always have a healthy meal ready)
Nutrients: 346 calories, 43 g protein, 30 g carbs, 6 g fat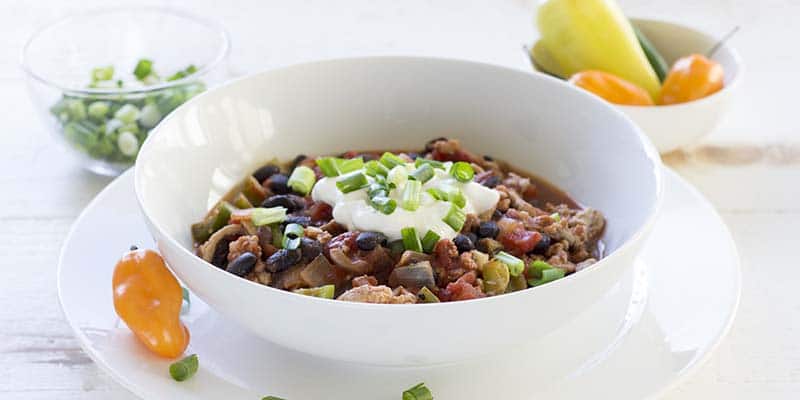 Meal 4 – Low-carb turkey & avocado rolls
5.3 oz. deli turkey (carefully read the nutrition label. You don't want added sugar, dextrose, honey, etc.)
1.3 oz. avocado
4 oz. veggies (I used bell pepper and cucumber)
Pepper (optional)
Instructions: Wash the veggies carefully and cut into thin sticks. Slice the avocado and roll it up in the turkey meat with the veggies. Season with pepper
Nutrients: 217 calories, 33 g protein, 9 g carbs, 6 g fat
Meal 5 – Beef, zucchini & brown rice bowl
4 oz. ground beef (92-93%)
5.3 oz. shredded zucchini
2.9 oz. brown rice (cooked)
0.3 oz. coconut oil (or other oil)
Cooking spray
Salt & pepper
Turmeric powder & bouillon (optional)
Instructions: Cook the rice according to the instructions on the bag but add a dash of turmeric powder and a quarter cube of Knorr chicken bouillon to the water. Set aside.
Wash zucchini and grate it. Set aside.
Coat a skillet with cooking spray and place over medium heat. Add the shredded zucchini to the pan and let it cook for 2 minutes. Push the zucchini to the side of the pan and add meat to the other side. When meat is brown on one side (app. 1-2 min.) season with pepper and flip over the meat. Let it cook for another minute, then add the cooked rice to the skillet and mix everything together. Add salt and let it cook for another minute.
Take the skillet off the heat and add coconut oil. Mix it all together and serve.
Nutrients: 357 calories, 27 g protein, 24 g carbs, 17 g fat
Meal 6 – Greek yogurt with flaxseed & strawberry
4 oz. plain low-fat Greek yogurt
5.3 oz. strawberry
0.3 oz. ground flaxseed
1 tbsp. Stevia (optional)
Instructions: Mix stevia and yogurt and sprinkle with ground flaxseed. Put the washed and sliced strawberries on top.
Nutrients: 159 calories, 14 g protein, 19 g carbs, 4 g fat
Daily totals: 1,610 calories, 158 g protein, 120 g carbs, and 51 g fat.
Changing up the plan
I like to eat the same foods for several days in a row with only minor changes and then change the plan every week or so. I would suggest that you follow this plan for a week and then start on the next plan (which I will post in a week from now).